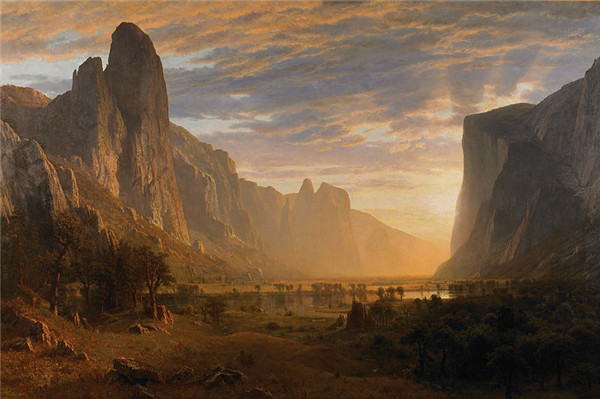 Albert Bierstadt's Looking Down Yosemite Valley is a highlight of the museum's collection. Photo/China Daily
Alabama's largest city is making a comeback after decades of dormancy, and there's plenty of free stuff for visitors to see and do in the new Birmingham. Re-energized by a wave of fresh development and the emergence of a true downtown vibe, the city once called the "Pittsburgh of the South", thanks to its steel industry, is now varied enough for a family trip or a weekend getaway for couple.
Interested in history or the arts? How about a tour of a worldwide broadcasting operation? Birmingham has those and more.
Civil rights district
Visitors interested in civil rights history can pay tribute to the era on a pilgrimage to sites where head lines were made. Walk along streets where police and firefighters used dogs and fire hoses to rout black demonstrators seeking equality in 1963.Stand at the spot where a Ku Klux Klan bomb went off that same year, killing four black girls inside 16th Street Baptist Church. Across from the church, sit in Kelly Ingram Park, where statues depict compelling scenes from the city's civil rights struggles.
Birmingham Museum of Art
Billing itself as one the nation's best regional museums, the Birmingham Museum of Art houses more than 25,000 drawings, paintings, prints, sculptures and decorative pieces from all over the world. Its painting collection includes Albert Bierstadt's Looking Down Yosemite Valley, selected by the National Endowment for the Humanities as one of 40 American masterpieces.