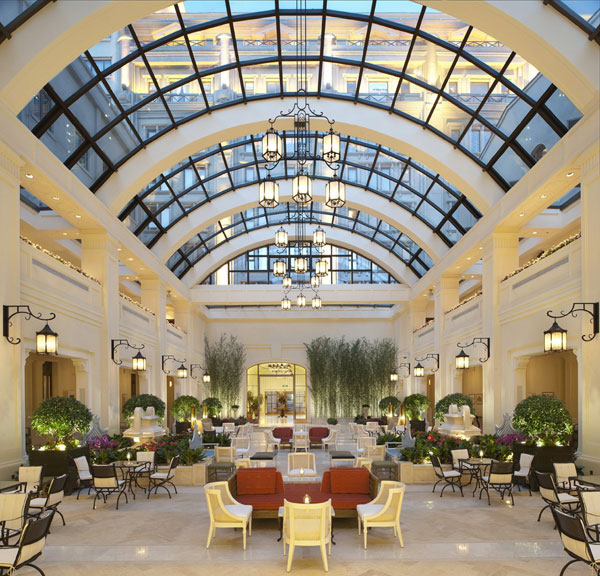 After renovation, the 150-year-old The Astor Hotel has become a luxury hotel in Tianjin.[Photo provided to China Daily]
In an age of video calls, all-night restaurants and high-speed trains, we often forget that the world was not always as interconnected, brightly lit or fast paced. A visit to The Astor Hotel, a 150-year-old establishment in Tianjin, can serve as a reminder of times gone by.
The hotel, located in the city's former British concession, boasts of being the first in China to have adopted certain technological advancements of the 19th century.
On one wall of its old lobby, beside a wooden staircase dating back to the hotel's inception in 1866, hangs a wooden phone from the 1920s. At one time, the Victorian building had even older models. In 1877, just a year after American scientist Alexander Graham Bell patented the telephone, The Astor became the first hotel in China to use the device.
A decade later, it became one of the first buildings in the country to install an electric generator. In the mid-1920s, it was the first Chinese public building to use an electric bulb.
Before then, you can imagine guests having dinner conversations over kerosene lamps, or writing letters by candlelight. Without electric lights, many would turn in earlier and wake up with the sun.
In 1924, the hotel constructed a new, four-floor wing and there installed one of the first elevator systems to be found in China. The elevator, a steel cage model with wooden interiors, still works - but it's only used for VIP guests to minimize wear and tear, says Li Yuanyuan, The Astor Hotel's marketing and communications manager.
"It is in perfect condition," Stephen Showers, corporate archivist of the Otis Elevator Company, which constructed the elevator, says. "The system would be an excellent addition to our elevator museum, but I do not know if we ever made a formal offer to purchase."