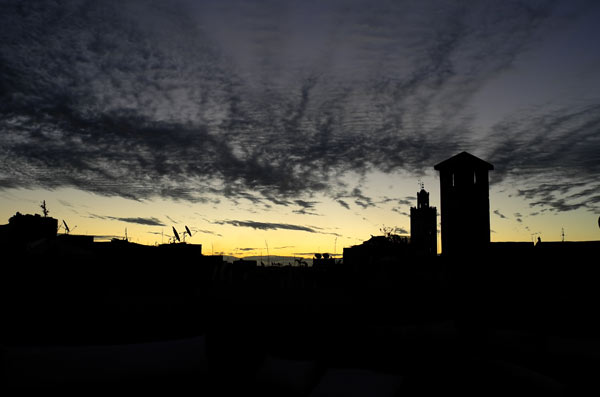 Sunrise casts golden rays over the rooftops in Marrakech's old and busy medina. Photos by Rebecca Lo/China Daily 
Marrakech and Essaouira boast some of Morocco's most striking contrasts. Rebecca Lo explores the imperial city's medina before enjoying a relaxed sojourn by the sea.
As our train pulled into Marrakech's station in the south end of the imperial city, I pinched myself. We were really here! Morocco has topped my bucket list for almost two decades, and we were finally about to explore its fascinating Red City.
We were greeted with a warm smile by the towering figure of Mehdi Ennaciri, manager of DesignHotel AnaYela. We would call his five-room riad, a traditional Moroccan house with a courtyard, home for the next few days, and he immediately made us feel welcome despite the hour of waiting he had to endure due to our train's delay.
As we drove through the Ville Nouvelle, which resembled an Arabic southern Californian town, I noticed that many of the buildings were constructed from the same red sandstone that dominated the surrounding countryside.
"That is why Marrakech is known as the Red City," Mehdi explains as we approached the medina-the citadel dates to the 11th century.
AnaYela is situated within the northern part of the medina and close to Zaouia Sidi-Bel-Abbes mosque. We learned to use the mosque as a handy reference point while navigating the medina's narrow alleys. My high school French helped, too, as it is the second most common language spoken after Arabic.