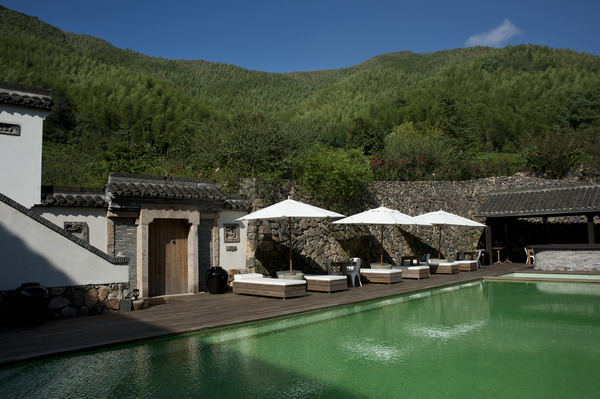 The swimming pool of Le Passage nestles into the picturesque landscape. Provided to CHINA DAILY
One of the most enjoyable aspects of vacationing in Europe is staying in a country home.
The fresh air, picturesque landscapes and relaxing vibes all contribute to a memorable family holiday.
And for residents of Shanghai, Suzhou, Ningbo or Hangzhou, the same experience is now only a drive away.
Husband and wife owners Christophe and Pauline Peres fell in love with the hills of Mogan Mountain 10 years ago. Their primary residence is in downtown Shanghai, and they wanted a place where their three young boys could roam freely surrounded by nature.
On a drive north of Hangzhou, they discovered an idyllic spot: A tea plantation nestled in the greenery of Deqing county.
Peres, a French developer who specializes in converting Art Deco buildings in the former French concession, was determined to make the plantation his family's vacation home.
After purchasing the land, Peres set about master planning, designing and building his dream French country house to exacting standards.
"I collected and reclaimed wood, which I used throughout the house. I like the look and feel of soft leather chairs," Peres says.
"He built everything a little too well," Pauline Peres, an English-born Chinese with Hong Kong roots, says, laughing.
 IF YOU GO

 Le Passage Mohkan Shan Xianrenkeng Tea Plantation,
 Ziling village, Moganshan town, Deqing county, Huzhou city, Zhejiang province. 057-2805-2958.