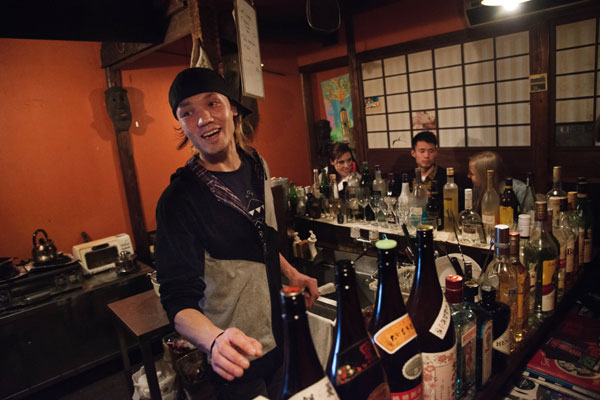 Spend the night at a bar to experience Kyoto's city life or savor the world-acclaimed Japanese cuisine.[Photo by Ko Sasaki/for The New York Times]
Local haunts in remote neighborhoods the key to avoiding crowds and dizzying array of temples
A full 36 hours, 36 days, or even 36 weeks could be spent exploring the Buddhist temples, Shinto shrines, Zen gardens, palaces, pagodas, parks and walking paths in Kyoto, the former imperial capital of Japan. So it's little surprise that the most common complaint about the enchanting city is that there are too many tourists, especially during the spring cherry-blossom season.
To avoid crowds, consider seeking out local haunts in far-flung neighborhoods, all within reach thanks to an extensive public transport system. You'll quickly discover that many of Kyoto's most rewarding attractions can't be found in any guidebook. At least not yet.
FRIDAY
2 pm: Golden oldies
It's easy to bounce from temple to temple until they all blur into a muddled mass. To prevent this overdose, be selective and focus on a single memorable spot, like Rengeo-in temple, commonly known as Sanjusangen-do (admission: 600 Japanese yen, about $6).
The temple's main hall, nearly 125 meters long, houses an unforgettable sight: a gigantic statue of Kannon, the Buddhist goddess of mercy, flanked by 1,000 human-size statues. The golden statues, each with 42 arms, carved from Japanese cypress in the 12th and 13th centuries, still look immaculate.
4 pm: Kyoto via Copenhagen
Adapting ancient crafts to contemporary tastes is a skill some local artisans have perfected through a venture called Japan Handmade. The project is a collaboration between the Danish design studio OeO and six small Kyoto-area companies, each rooted in a traditional craft, from woodworking to metal-knitting. One of the participants, Hosoo, founded in 1688, produces luxurious fabrics traditionally used to make kimonos. Today the patterned silks also adorn upholstered armchairs and high-top sneakers. Find these modern creations and Japan Handmade's range of covetable items - glazed porcelain trays and cypress-wood Champagne buckets - at the new House of Hosoo showroom in Nishijin, the city's historic textile district.
6:30 pm: Chicken dinner
Most locals don't blow their yen on outrageously priced kaiseki dinners and neither should you. Instead, secure a seat at Hitomi, a casual yakitori restaurant that is beloved for its warm service and delicious grilled things-on-sticks. Bar seats afford front-row views of the smoking grill, where every part of the chicken, beak to tail, is cooked with care. Don't miss the tsukune (ground chicken "meatball"), crisp kawa (skin) and succulent momo (chicken thigh) seasoned with nothing but a pinch of salt. Dinner for two is about 5,000 yen.