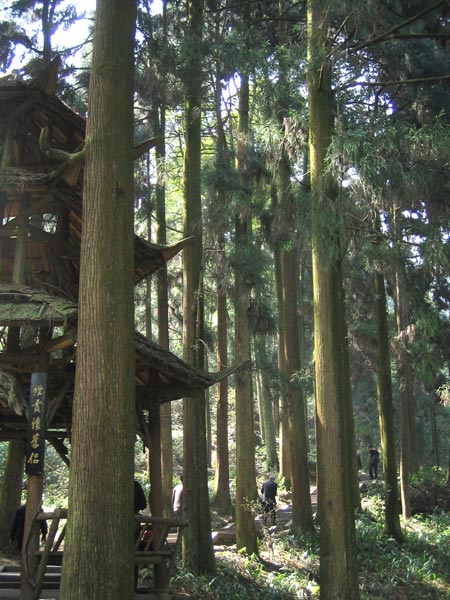 Big trees stand tall along a stone slab trail up Mount Qingcheng.[Photo by Chen Liang/China Daily]
Even on weekends, most package tourists choose to reach the summit by the cableway and leave most parts of the mountain to a handful of climbers.
While morning mist still winds through the valleys, one can climb to a roofed archway with a wooden plaque reading "Natural Picture Scroll". Standing in front of the archway and seeing green lichen-covered trunks and branches of the towering trees dominating the sky above the black-tiled roof, you will understand how perfectly the words match the scenery.
As visitors are rare on the stone slab trails, flocks of birds are often seen feeding along the trail or flying across the valleys. In spring, various flowers bloom along the trails. Empty mountains, rampant forests, curving fog and spring flowers, you can still get a glimpse of those elements that attracted Taoists to turn the mountain into one of their sacred lands over hundreds of years.
Except for a few moments in temples on Mount Qingcheng, the joy of staying in the area is the purely secular pleasure of getting back to nature. If you want to feel the sizzle of local life, just visit one or two country markets scattered around different towns in the area. The markets stage fairs in turn according to the lunar calendar. Check with a local resident in the town of Qingcheng, which is about 1 kilometer south of the Front Hills, to find out which market is hosting a fair.
A country market fair means that you can see many people selling many different kinds of fresh vegetables, fruits and flowers, many choices of local snacks, live chickens, live ducks, live fish and, sadly, caged birds. The market in the town of Qingcheng is a good place to visit as it has a fair once every two or three days.
Another choice is the market in Taiping town, which is only 10 kilometers away from Mount Qingcheng and can be reached by bicycle or minibus.
Indulging yourself in country life on this trip, I am sure that you will have a truly laid-back memorable week of your life.
If you go:
There is the highspeed railway between Chengdu andMount Qingcheng. The ride takes 40minutes. The train station is only a 10minute drive fromthe entrance of the world heritage site.
The top hotel is the Howard Johnson Conference Resort Chengdu, which is about a halfhour walk fromMount Qingcheng and offers customers free access to a hot spring in the complex.