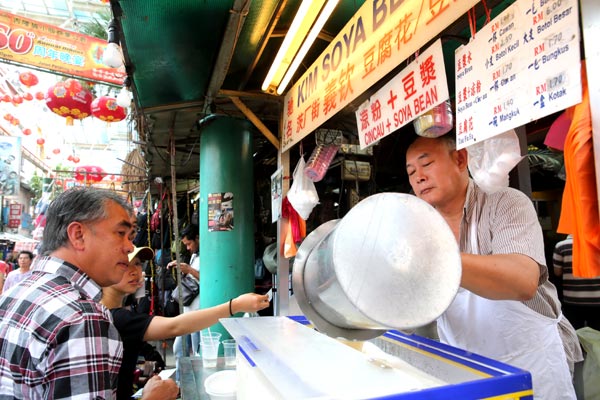 Customers buy breakfast at a market run mainly by Chinese-Malaysians in Kuala Lumpur.[Photo by Jiang Dong/China Daily]
Taiwan writer and public intellectual Lung Ying-tai once proposed the concept of a "southern vision" in an attempt to bridge the divides in the politically fragmented Chinese-speaking world.
She asked people in Beijing and Taipei to view the world through the perspectives of Malaysia, Singapore and Australia, countries that are geographically south of China but have a strong link to the mainland.
"Though the Chinese-speaking world has been dissected into isolated pieces by walls of politics, our shared culture can serve as a unifier," Lung wrote.
"If 'the south' was not gazed upon by the political center in 'the north', if Chinese culture was officially interpreted from the southern perspective, there would be another version of history."
Had I not wandered through the streets of Kuala Lumpur and immersed myself in the daily life of the Malaysian capital, I would not have known how vital Chinese traditions are in this diverse and competitive society.
A 2010 survey found there were 6.4 million people of Chinese heritage in Malaysia, accounting for 24 percent of the population. Malays make up the majority, at around 67 percent.
Yet there are challenges. "It is not a favorable environment for Chinese culture to thrive in because the country is troubled by ethnic politics," says a taxi driver surnamed Lim. "Every ethnic group is fighting to be visible, to have its voice heard and rights safeguarded."
Lim, 24, is a third-generation Chinese-Malaysian. Like almost every Chinese child in the country, he was sent to a private Chinese school at an early age, but in July he left full-time education and started providing a taxi service for a local hotel.
"My grandfather was originally from Fujian province, but I have never had a chance to visit my ancestral home," he says in broken Mandarin. "In public schools here, Malay is the mandatory language and time for Chinese studies is often eaten away, so parents will do whatever it takes to send children to private schools."
Standing in heavy traffic in Kuala Lumpur, one gets a glimpse of big colorful signs saying "1Malaysia", with the country's national flag in the background.