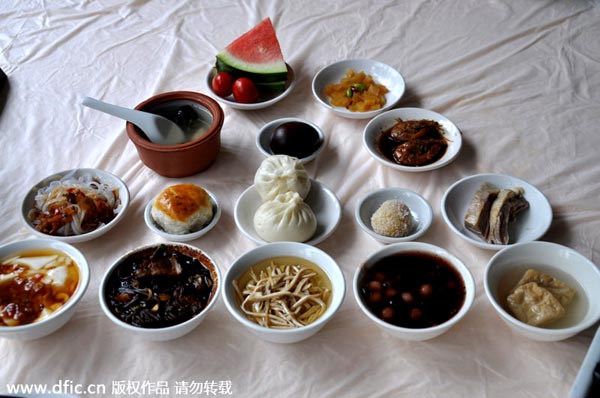 [Photo/icpress]
The Qinhuai Bajue (the eight must-eats of Qinhuai), including fried beef dumplings and crispy duck-oil pancakes, may cater to a different range of tastes.
Culture fiends can also find something more spectacular in Yu County, an ancient town 220 km west of Beijing.
The tradition here for more than 300 years has been to fling ladlefuls of molten iron against the high brick walls. This splash of color is reminiscent of fireworks, although more memorable for those who brave the chilly weather.
Inspired by Spring Festival customs, local opera, embroidery and other festivals, paper-cuttings in Yu County are also renowned and could bring auspicious blessings to travelers there.
The more adventurous couples could try a trek through the Emerald Valley.
At the northern foot of Huangshan, east China's Anhui province, the quiet valley is dotted with turquoise blue pools. It is the setting for scenes in the Oscar-winning film "Crouching Tiger, Hidden Dragon", including the fight in the bamboo grove, flirting scenes beside the river and the discovery of the sword in a pool.
The 6-km-long valley was rather risky before it was officially opened to public. In 1986, when the path was still rough, a group of 36 young travelers from Shanghai became lost there. They helped each other to safety, and 20 of the 36 later became couples.
Two years later, they revisited the valley and signed a letter appealing to the local government to change the valley's name to Lovers Valley.
Now also known as Valley of Lost Lovers, it attracts many couples every year with its natural beauty and romantic history.