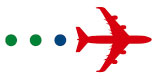 Air China offers a special package of a direct flight between Beijing and Hawaii. Booking before March 31, passengers can enjoy a round-trip ticket from 2,716 yuan ($449).
www.airchina.com.cn
To celebrate the Year of the Horse, Lufthansa Airlines passengers can take advantage of an economy class flight from Nanjing to top European destinations, including Rome and London, all starting from 2,880 yuan. Purchase by Feb 20 and travel before March 31.
www.lufthansa.com
Hainan Airlines recently opened direct round-trip flights from Beijing to Bali, a popular island destination in Indonesia. The plane takes off at 3:50 pm Beijing time and lands at Bali at 11:05 pm local time on Mondays, Wednesdays and Fridays. The flights from Bali to Beijing are on Tuesdays, Thursdays and Saturdays.
www.hnair.com
Singapore Airlines and Air New Zealand join forces to expand Singapore-Newzealand service. Air New Zealand will fly the Auckland-Singapore route again. Singapore Airlines will operate the Singapore-Auckland route with Airbus A380, replacing Boeing 777-300ER on the existing daily service.
www.singaporeair.com