Far horizons beckon as agencies eye Chinese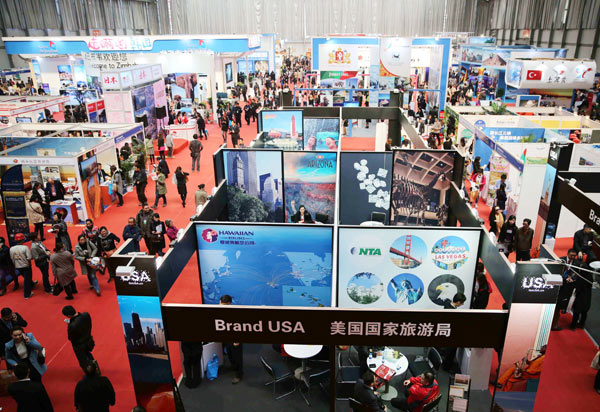 The China International Travel Mart attracted exhibitors from 102 countries and regions to the four-day event this year. Liang Zhiqiang / Xinhua
Overseas tourism destinations are expecting more Chinese travelers and taking measures to attract them, according to participants at China's most influential travel industry event.
"The number of Chinese tourists coming to Indonesia increases every year but we still lag behind Malaysia and Singapore in this regard," said Iyung Masruroh, an official with Indonesia's Ministry of Tourism and Creative Economy. "We received 686,000 tourists from China in 2012 and expect 820,000 for this year."
She was speaking at the China International Travel Mart, which concluded on Sunday in Kunming, capital of Yunnan province.
Organizers said the Kunming mart is Asia's largest travel fair and drew exhibitors from 102 countries and regions with more than 1,000 foreign buyers mainly from South Korea, Russia, the United States and Europe.
"We know our connectivity with China is not as good as Thailand's or Singapore's but we are very optimistic because Chinese people are already aware of our tourist destinations," Masruroh said, adding her country has geared up its efforts to bring more Chinese tourists with a host of "charm offensives".
Masruroh said her task at the mart was to promote Jakarta, Bandung and other tourist destinations other than Bali, an island province in Indonesia that already has the largest number of Chinese travelers in the nation.
Itay Friedjung, director of the Israel Government Tourist Office in Beijing, said his office invited 11 companies, including tourist agencies, hotels and even diamond merchants in Israel, to take part in the mart.
"Israel is far from China, but with the globalization of the tourism industry and direct air links, Israel has become accessible to Chinese people."
Friedjung said the Israeli government sponsored Lu Chuan, a well-known Beijing director in his new movie, Old Cinderella, which is a romantic comedy and will be screened around China at the end of this year. A number of scenes in the movie are set in Tel Aviv and Jerusalem.
"We are also strengthening cooperation in civil aviation between the governments that will allow more airlines and more places in China to open direct flights to Israel."
For small nations, integrating their resources and extending a unified image seems a natural choice.
"We have a uniqueness compared to many other places that have Chinese travelers, such as Japan and Thailand, when it comes to natural scenery," said Alisi Lutu, marketing officer with the South Pacific Tourism Organization, which has 17 members, including the Cook Islands, Nauru and Tonga.
She said her region can offer activities most Chinese might not have tried before, such as swimming with whales.
"The South Pacific is also very popular for Chinese newlyweds, both for the ceremony and enjoying the honeymoon," she said.
The South Pacific Tourism Organization has launched a road show in Beijing and Shanghai and promoted local attractions to Chinese tourism agencies.
Countries that already have a steady stream of Chinese tourists are also striving to ensure market growth.
"Italy is now the No 1 recipient of Chinese tourists in Europe and the trend is that more and more Chinese people will come to see our country," said Autilia Zeccato, director of the Italian Government Tourist Board in China.
"My office in Beijing is also working with our embassy to improve the visa issuance procedure to facilitate Chinese tourists."
Lee Woo-joo, from the Liwu Tour travel agency in South Korea, said tourism operators in his country have begun to diversify their products and itineraries to attract Chinese travelers.
"The number of Chinese tourists sightseeing in South Korea this year is expected to see a slight fall due to a host of reasons so we are thinking of new ways to bring them back," he said.
Chinese tourists will embark on more than 90 million journeys by the end of this year, according to Shao Qiwei, director of the China National Tourist Administration, who also estimated that an unprecedented 100 million trips will be achieved by Chinese next year.