Island paradise lures Chinese tourists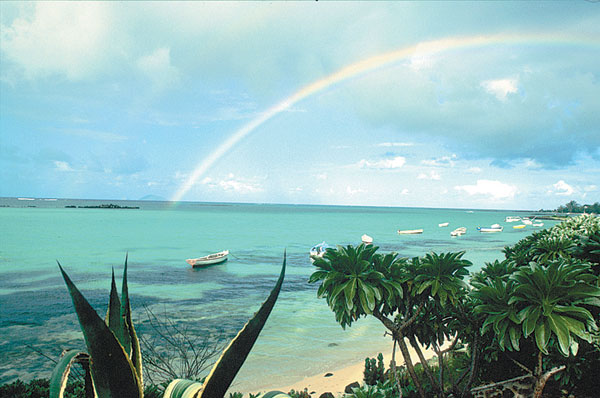 Mauritius, famous for its beaches, blue waters and rich culture, is seeking to attract more Chinese tourists. Provided to China Daily
Faced with stiff competition from Seychelles and Maldives in the Indian Ocean, Mauritius, one of Africa's prime holiday destinations, is seeking to attract more Chinese tourists as the growth of its European visitors stagnates.
"We have witnessed a growing number of Chinese visitors in recent years. In 2012, about 20,000 Chinese visitors came to Mauritius, an increase of 77 percent compared with 2011. And we are expecting to have 40,000 Chinese tourists by the end of this year," said Michael Sik Yeung, minister for Tourism and Leisure in Mauritius.
China still only ranks No 9 on the list of the island's top 10 inbound tourism countries, and Chinese tourists currently account for only 1 percent of the nation's total visitors.
"France, the United Kingdom and Germany are the top three European countries touring the island, and about 300,000 French tourists visit Mauritius every year," said Yeung.
Visitors from European countries make up the majority of the island's tourists, but growth from that bloc is stagnating.
"China is a very important driver for the future development of Mauritius' travel industry. But at the moment, many Chinese people do not know us enough," Yeung said.
A delegation from Mauritius, including tourism officials, Air Mauritius China, representatives of Mauritian hotels and resort owners, arrived in Shanghai and Beijing in September to promote the island nation as Chinese tourists show more interest in the country.
They spoke with more than 40 Chinese travel agencies to learn more about the demands of Chinese visitors in the hope of reaching agreements to expand tourism links between the countries.
When it comes to the fierce competition from its nearby island destinations, which are also famous for beaches, blue waters, diving, top hotels and spas, Yeung said Mauritius is special for its rich culture and people as the nation originated from many parts of the world, including India, Africa, France and Muslim countries.
"Chinese visitors are pursuing the island's combination of wild African scenery and French romance. And the free-visa policy for Chinese tourists has helped attract more Chinese people there," said Wang Ning, a purchase manager at China CYTS Tours.
According to Wang, high-altitude jumping, deep-sea fishing, golf and self-driving are among the most popular activities for Chinese tourists.
Wang's company provided services for about 1,000 Chinese customers traveling Mauritius in 2011, and the number jumped to 2,800 in 2012. By the end of September, it received more than 4,000 tourists.
"Most of the customers are honeymooners and family vacation tourists, and the percentage of family tourists has been increasing in recent years," said Wang.
In order to pull in more Chinese visitors to compensate for the loss of its European markets, Mauritius is conducting plans to improve its tailored service and business operations for Chinese visitors.
Lux Resorts, a Mauritian hotels group, received 2,000 Chinese tourists in 2012, up from about 200 in the past years thanks to the opening of a direct flight launched in 2012.
In order to cater to the new arrivals, it now offers Chinese accommodation, and has opened Chinese corners for lunch and dinner.
"We are paying more attention to Chinese arrivals. We have one Chinese chef, and we are training more. We also provide training for our team members in Mandarin and we have nine Chinese people in our resorts. Materials in the rooms are translated into Chinese," said Sydney Pierre, head of Worldwide Sales at Lux Resorts.
The group has also established offices in Guangzhou, Shanghai and Beijing, with 20 people dealing with reservations in China. In addition, it is working with 10 Chinese tourist companies.
Betting on the promise of Chinese tourists, Air Mauritius China has opened three direct flights from Beijing and Shanghai to Mauritius since January.
Chinese passengers do not need to stop in Kuala Lumpur, Malaysia anymore.
"The direct flights have helped us attract more Chinese visitors, but whether we are going to add more direct flights is dependent on the demands of the marketplace," said Zhang Jian, the general manager of Air Mauritius China, the only airline from Mauritius that operates direct flights to China.
(