Film studios tap travel market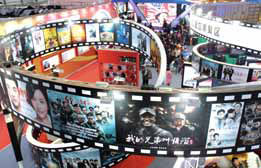 China (Huairou) Movie and TV Industry Zone in Beijing's Huairou district promotes itself at an expo as a movie production base and a tourist attraction. Provided to China Daily
With China's film industry burgeoning, film and TV studios, which offer backlots for shooting, are also seizing the opportunity to attract tourist revenue.
Hengdian World Studios, in Zhejiang province, is the world's largest film studio, and has been dubbed China's Hollywood.
"The number of tourists to Hengdian World Studios rose from 10.8 million in 2011 to 11.77 million in 2012," said Zeng Yulin, spokesman for Hengdian World Studios Co.
The number of visitors jumped from 4.78 million in 2007 to 8.41 million in 2010, with a fall to 5.84 million in 2009, due to the global financial crisis that year.
Zeng credited the boom to the live performances offered at various scenic spots, including the buildings featuring the architecture of the Ming and Qing dynasties (1368-1911), and the street scenes for Guangzhou and Hong Kong.
"These performances are shown only for limited periods, because we are continuously upgrading them, while at the same time creating new works," Zeng said.
More than 150 film and TV crews use the studios each year, much more than other studios in the country. In the past nine years, more than 1,000 individual crews have made use of the scenery at Hengdian.
With 28 large scenic spots in total, its rich and diverse backlots and shooting locations make it the first choice for producers and directors seeking an authentic backdrop to a historical drama set in China.
Business model
In 2000, the studio took the momentous decision to allow film and TV production companies to use its outdoor scenic locations for free. The move attracted large numbers of production companies to Hengdian, thus boosting its fame, which in turn made it a top tourist destination for paying film and TV drama enthusiasts.
The studio's main sales outlet is its online shop at Tmall.com, the popular business-to-customer arm of Alibaba Group Holding Ltd, China's largest e-commerce company. The manager of the online shop, Zhang Yong, said that online sales have been rising rapidly.
"The travel packages sold through all online channels made more than 60 million yuan ($9.8 million) in the first half of this year," Zhang said.
He said the figure is almost double that for 2012, and that business performance has been doubling year-on-year for some time.
Beijing, which boasts rich film and TV resources, should also explore its business potential in this area, experts said.
Yang Yanfeng, an associate professor at the China Tourism Academy, said other studios have also shown potential in sourcing tourism revenue, such as China Film Group's Huairou studios in the northern suburbs of Beijing.
In the past, the travel and leisure activities and services provided by Huairou were low-end recreations, including fruit-picking and horseback-riding. However, starting from two years ago, more and more investors have shown an interest in developing high-end travel and leisure projects there, according to Yang.
As the capital, Beijing boasts rich film and TV resources, ranging from entertainment and media companies and artist management agencies, to educational institutions like the renowned Beijing Film Academy and The Central Academy of Drama.
In addition, more than 70 percent of post-production companies are based in Beijing, allowing it to out compete other cities in terms of the film and TV industry.