US travel agencies focus on China market
As Chinese tourists become top spenders around the world, US travel agencies are customizing tour projects to attract them.
Los Angeles Tourism and Convention Board plans to launch a Hello China program next year.
This will include a Shop Los Angeles project from January to April to lure more tourists from China, Jamie Lee, regional director of the organization told China Daily at the China Incentives, Business Travel and Meetings Expo in Beijing on Sept 4.
The three-day expo was held from Sept 2 to 4 by the China National Tourism Administration and the Beijing government, to showcase the latest developments, especially concerning meetings, conferences and corporate events.
"By then we hope at least 300 experienced Chinese tour guides can be trained to meet surging demand," she said. Currently the city has about 100 experienced Chinese guides.
While training hundreds of experienced Chinese tour guides, Lee added the organization will also hold culture training to help bridge any differences.
Creating a friendly and comfortable tourism environment is important to lure Chinese tourists, Lee said.
"The Chinese market is growing so fast and we are keeping up," Lee said.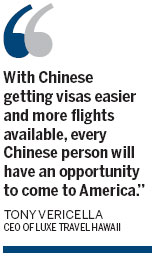 But it's not all good news for Lee. Since expensive meals and showy official trips were banned across China in an eight-point regulation released by President Xi Jinping in December last year, nearly no official trips were received in Los Angeles, according to Lee.
The regulation said foreign trips should be reduced to those absolutely necessary and there is no need for receptions by overseas Chinese, institutions and students at the airport.
From December to April, the cost for oversea official trips fell 8.5 percent year-on-year in Beijing, according to the capital's discipline inspection commission.
But this does not greatly influence Chinese tourism in the US.
US tourism data show that the number of Chinese visitors surged to nearly 1.5 million in 2012.
This resulted in $9.2 billion in economic benefits, while tourist numbers are expected to surge to 3.4 million in 2018.
Tony Vericella, CEO of Luxe Travel Hawaii, launched high-end customized Hawaii travel for Chinese tourists last year. The price is at least $10,000 per person for six days.
"With Chinese getting visas easier and more flights available, every Chinese person will have an opportunity to come to America," Vericella said.
A non-stop flight from Beijing to Hawaii is expected to be launched in April.