Thailand's attraction: tolerance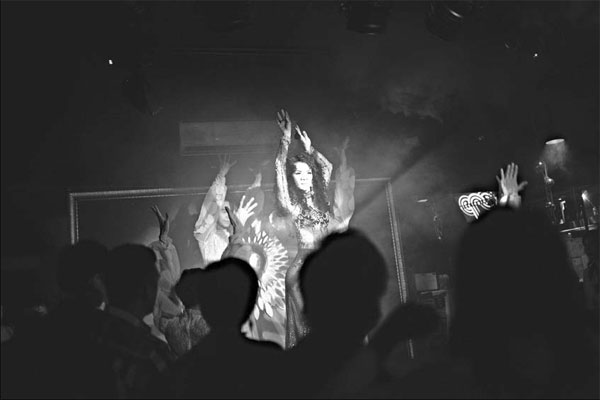 Unlike many of its neighbors, Thailand is tolerant of gays, lesbians and transsexuals. A show for tourists in Bangkok. Photographs by Giulio Di Sturco for the International Herald Tribune
BANGKOK - Tolerance, the Thais have learned, is good for business.
In recent marketing campaigns, the government here in "the land of smiles" has actively sought categories of tourists that for reasons of political sensitivity or outright discrimination are shunned in some neighboring countries.
It is the only Asian country, travel industry analysts say, that has a government-sponsored campaign - "Go Thai. Be Free." - aimed at gay and lesbian travelers.
Thailand, which is overwhelmingly Buddhist, is also marketing itself to Muslims as a place where food prepared according to Islamic precepts is readily available and where "halal spas" offer separate facilities for women and men. Leading shopping malls have Muslim prayer rooms - a far cry from the anti-Muslim feelings in neighboring Myanmar.
Such inclusiveness pays: tourist arrivals have surged in recent years, notably from many predominantly Muslim countries, and the 22 million visitors last year were double the level of a decade ago. Tourism earned the country more than $31 billion last year, the government said.
"I can't think of a market that we wouldn't welcome," said Wisoot Buachoom, the director of the Tourism Authority of Thailand's office in the northern city of Chiang Mai.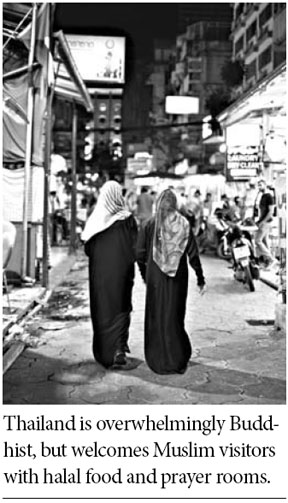 Thailand's campaigns might not raise eyebrows in the West. But among its immediate neighbors, laws against homosexuality and religious or ethnic hostilities keep some tourists away.
Malaysia and Indonesia, both Muslim-majority countries, bar Israelis from visiting for political reasons. Thailand, by contrast, has long been one of the most popular destinations for Israeli travelers, with 120,000 Israelis visiting Thailand in 2012.
Among Thailand's Southeast Asian neighbors - Brunei, Malaysia, Myanmar and Singapore - some or all forms of sexual contact between men are illegal, although the laws are loosely or selectively enforced.
Thailand's gay and lesbian campaign began two years ago from the Thai tourism promotion office in New York, featuring the slogan, "Go for the freedom."
"We go after the affluent gay traveler," said Steve Johnson, who oversees the Thai government's gay and lesbian campaign from New York.
At a bar in Silom, a district of Bangkok that is popular with gay men, Alex Cross, an Australian gay traveler who came to Thailand with his partner, said he enjoyed visiting Thailand because "I feel there is no judgment here."
"We've been to countries where it's illegal to be gay," Mr. Cross said. But in Thailand it is common to see gay couples, local and foreign, holding hands in shopping malls and other public places. "Here we can express ourselves," he said.
A short drive away, at a mosque near the banks of the Chao Phraya River, Huzam Kalam, a Muslim flight attendant from Sri Lanka who was on his third visit to Bangkok, expressed a similar sentiment. "I don't feel like I'm out of place here," he said.
Thailand's efforts stand in contrast with anti-Muslim sentiments in Myanmar, where Buddhist mobs have killed scores of Muslims over the past year.
Thailand has also struggled with violence between Muslims and Buddhists. But Fazal Bahardeen, who rates destinations for convenience and friendliness to Muslims, says Thailand has convinced outsiders that the attacks are small and isolated.
The company ranks Thailand as the third-best "halal-friendly holiday destination" of countries outside the Organization of Islamic Cooperation. The survey is based on the availability of halal food, prayer facilities and other manifestations of sensitivity to Muslim needs. (Singapore, which has a sizable Muslim minority, was the top-rated destination, followed by Bosnia.)
Thais are "inherently hospitable people," Mr. Bahardeen said.
"I keep telling tourist organizations: it's Marketing 101," he said. "You're spending your own money," he said of foreign travelers. "Why would you want to go to a place that doesn't welcome you?"
Maor Engel, of the Bangkok Tourist Center where about 90 percent of clients are Israeli, said: "In other countries, they will ask you where are you from and why are you here or your sexual orientation. Here they don't care." He added, "You just come here with money, that's it."