Ahoy, Hanoi!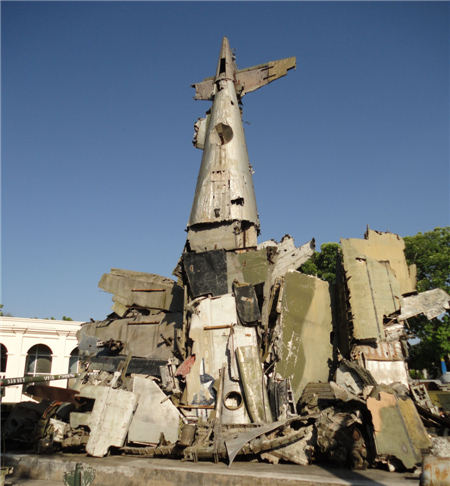 This wreckage heap at the Military History Museum comes from planes that were shot down during the war. Photos by Hilton Yip / for China Daily
Vietnam's capital is full of history, and youthful vigor. Hilton Yip explores the city.

As I prepared to cross the road, nervously eyeing the incoming rush of motorbikes and cars, I couldn't help think that what I'd thought of Hanoi was wrong. From what I'd read online, I was expecting the capital to be laidback and stodgy. Instead, I found a city that was both historic and bustling. Hanoi has more than 1,000 years of history, serving most of that time as Vietnam's capital. It boasts historic sites, attractive French-built colonial-era buildings, and scenic lakes. Vietnam's revered leader Ho Chi Minh has several major sites dedicated to him. Hanoi is a busy city. The most noticeable evidence of this is the traffic, most of which is the motorized two-wheel kind, which creates a loud cacophony of honking and rumbling at all times of the day.
I lived in Taipei where motorscooters and motorcycles make up a big part of traffic as well, but Hanoi has Taipei beat both in numbers and decibel levels.
Hanoi is often compared to Ho Chi Minh City in the south.
"Hanoi is more traditional and historic while Ho Chi Minh City is more dynamic, perhaps similar to Beijing and Shanghai," says Minh Trang, a university student and my guide for my first day.
Trang is a member of Hanoi Free Tour Guides, whose student guides offer free tours in several languages. This history and tradition can be found in many places, especially the Old Quarter, the core of the city.
The Old Quarter is a maze of streets packed with restaurants, cafes, hotels and shops, selling all kinds of wares displayed in the open, making it great for strolling and sightseeing.
You can see vendors carrying heavy loads balanced on poles on the streets, while throngs of people sit outside restaurants on sidewalks on small chairs enjoying food and drink.
On Friday, Saturday and Sunday nights, an entire street is closed to vehicular traffic, and a busy outdoor night market runs the whole length up to the Dong Xuan indoor market.
To the south of the quarter is the small but famed Hoan Kiem Lake. At night, the lakeshore is filled with locals, tourists and vendors, enjoying the views and atmosphere.