Long stay investments
The Ascott brand has come to represent quality luxury serviced residence for the long-term business traveler, and in China, Ascott is aggressively driving its expansion plans where it already has a significant presence in cities such as Beijing, Shanghai, Dalian and Shenyang.
The world's largest international serviced residence owner and operator is looking at expanding its footprint into new cities such as Qingdao and Zhengzhou, according to its area manager for North and Central West China, Darren Cher.
"All of these cities are chosen because of their burgeoning growth and strong attraction for foreign direct investment. With our extensive presence and established track record in China, Ascott is well-positioned to meet the huge demand for premium serviced apartments in these rapidly growing market sectors." Cher says.
Although many international companies have cut their budgets and decreased the number of expatriates they send to China due to the uncertain global economic climate, Cher believes that this is just a temporary response. In the long term, the huge potential of the Chinese market is still so important to these companies that they "simply can't afford not to be in China", and as a result, the serviced residence market will continue to expand, he says.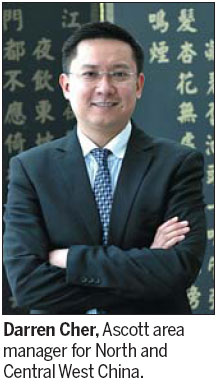 Besides emerging markets, Ascott will continue to strengthen its presence where it is already well established. The brand currently has 16 properties in the North and Central West China regions and more are in the pipeline.
By next year, all three brands under the company - Ascott, Citadines and Somersets - will see additional openings in Chengdu.
There will be a new Ascott Raffles City Chengdu opening in September this year, and a new Citadines South Chengdu starting operation next June.
"We offer business travellers and expatriates a home away from home to relax and recharge. We aim to provide all our residents and guests with personal space, privacy and comfort," Cher Says.
"In our serviced residences, we want the residents to feel that they are part of a friendly community and support network where everyone knows and treats them like old friends, or even family in some cases."
It is this attention "into the finer details" that has won Ascott the honor of being named "Best Serviced Residence Brand in China" for eight years consecutively.
Besides its consistent efforts to deliver top-notch service, another successful factor is Ascott's wide geographical spread across China and globally.
"Our residents have said that they would prefer to stay with us if they are posted to a different city in China or even on a short business trip or holiday weekend." Cher says. "They know what to expect, and that is the signature level of service, attention to details and comfort that Ascott has become well-known for."
Last year the company launched an "Ascott Host" program especially for its long-stay and selected short-stay loyal guests. Under the program each guest receives individual attention from one designated employee known as the host, who will contact them via e-mail even before they arrive in the city. The main role of the Ascott host is to do their utmost to help the new-arrivals settle in their new city of residence.
They will also leave their phone numbers and e-mail addresses so the guests can contact them at any time of the day.
Such attention to detail and service benchmarks are what makes the Ascott apartments so popular, and it looks like their pole position at the top will be hard to dislodge for some time to come.