Cliffside hotel boasts underwater rooms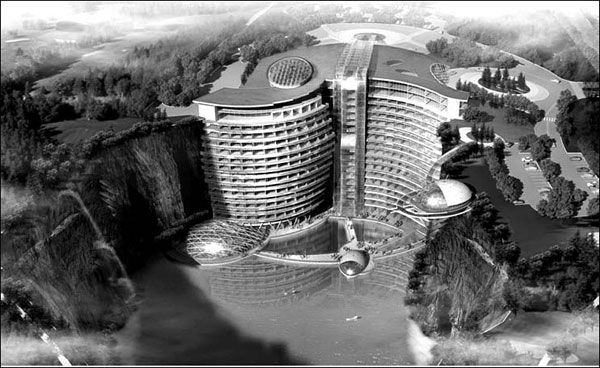 The InterContinental Shimao Shanghai Wonderland will extend 19 stories into the bottom of an 87-meter-deep pit.
Like most metropolitan cities, the architecture of Shanghai is mostly towering skyscrapers of metal and glass, but one hotel is breaking the mold by building down instead of up.
The InterContinental Shimao Shanghai Wonderland, developed by Shanghai Shimao Property Group, will extend 19 stories into the bottom of an 87-meter-deep pit near the foot of Shanghai's Tianma Mountain.
Construction started in March this year and is expected to be completed in 2015. According to the company that is building it, the hotel will be capable of receiving 10 million visitors a year, boosting local tourism.
On the outside, the hotel will feature a superb landscape. On the inside, all of the president suites and guest rooms will have a viewing balcony.
In addition, there will be an underwater restaurant and two-story underwater guest rooms. Cutting-edge technology will be applied to build an aquarium, artificial rocks and coral reefs. The innovation will let visitors experience what it feels like to roam at the bottom of the ocean.
At the same time, there will be a 100-meter waterfall for visitors to appreciate along the cliff right across from the hotel.
The pit served as a quarry from the 1950s to 2000, when it was abandoned, according to a senior branding manager of Shanghai Shimao Property Group.
Shimao is investing a total of 3.5 billion yuan ($571 million) in the 420,000-square-meter Shimao Shanghai Wonderland, a large-scale theme park integrating natural, leisure and entertainment elements. The hotel is planned as part of the wonderland complex, with a total investment of 600 million yuan.
The hotel layout was provided by UK design firm Atkins and cost about 30 million yuan. It said that the site is one of Shanghai's most beautiful natural landscapes, with six national forest parks nearby, and the design of the hotel will make the most of it.
Hotel planners said that they would also take advantage of the site's surrounding cliffs by hosting activities, such as rock climbing and bungee jumping. Other amenities include swimming pools and spa centers.
There will also be a comprehensive family-friendly business center that is home to an early learning center, an IMAX cinema, a children's park and an upscale shopping mall, where families can enjoy themselves.
yangfeiyue@chinadaily.com.cn
(China Daily 07/05/2013 page17)