Germany set to woo Chinese tourists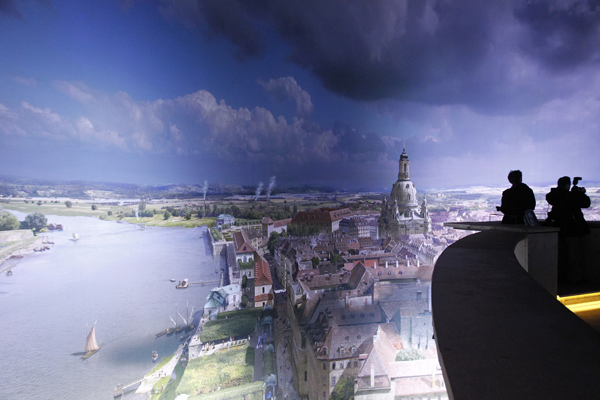 Elbe River runs through the historic Dresden in Germany. [Photo/Provided to China Daily]
Most Chinese only know Germany for its beer, sausages and soccer. German tourism bureaus and operators want to expand that knowledge and attract more Chinese tourists with excellent service and colorful tourism products.
"China is important to Germany as a traveling nation with its growing wealth and eagerness to travel," says Constanze Hilgers, director of destination management with the German National Tourist Board, a national marketing organization promoting Germany as a destination globally.
"There is such a diversity in our country, and it has all our customers might be interested in," she says.
Together with representatives from other tourism marketing organizations in Germany, Hilgers recently traveled to Beijing and Shanghai to promote her country.
According to Hilgers, in the Germany tourism industry, Asia ranks in the top two after Europe, with a market share of 10.5 percent in 2012.
Since 2009, overnight stays by Chinese in Germany have increased greatly to nearly 1.6 million in 2012, followed by Japanese at 1.3 million.
In 2012, the most visited regions by Chinese travelers in Germany were Bavaria, Hesse, Baden-Wuerttemberg, North Rhine-Westphalia and Berlin.
Hilgers says besides historical heritage, visitors can join family package tours in summer to visit scenic spots, museums and theme parks. In the winter, tourists can enjoy Christmas markets.
"Chinese are leading the statistics in shopping. The biggest revenue from tax-free goods in Germany came from China last year, with a share of 32 percent," she says.
Wolfgang Bauer, chief executive of Outletcity Metzingen Holy AG, about 50 km from Stuttgart, says the outlet offers Chinese speaking personal service to enhance customers' shopping experience.
The German National Tourist Board is investing in online travel agencies, because online platforms in China have potential for growth.
"Youngsters nowadays can't live without mobile devices, but WiFi in Europe is not all free. Our latest app Youth Hotspots can help them solve the problem," Hilgers says.
In April, GNTB developed Youth Hotspots, which can not only track down about 1,500 free WiFi locations in Germany, but also offers tips from other travelers about restaurants, bars, cafes, must-sees and events. The app also works offline and offers more than 80 coupons especially for youngsters.
Li Zhaohui, director of GNTB's Beijing office, says to promote Germany as a destination among Chinese, it's important to work with travel agencies and airlines.
According to Li, GNTB has more than 3,000 travel agency contacts in China in its database. It has developed close relationships with some important travel agencies in gateway cities, such as Beijing, Shanghai and Guangzhou.
"We're very willing to cooperate with official tourism bureaus as they can offer us more in-depth information. The earliest cooperation dates back to the 1990s, and we have more partners now because more destinations have been developed," says Zhang Wei, general manager of outbound tourism department, China International Travel Service Limited.
"It's important that they come to China to do promotion so that we can have face-to-face conversations about our promotion plans rather than online communication. Our Chinese guides can also take the opportunity to learn more about the destinations," she says.
According to Zhang, some bureaus promote themselves in second-tier cities in China, as people from small cities are also very willing to travel abroad.
"Compared with a decade ago, cooperation with them is more comprehensive and focuses mainly on theme tours, and the promotion is shifting to the city's culture and history rather than the city itself," Zhang says.
Peter Siemering, general manager of Bremer Touristik-Zentrale, the tourism marketing and service organization for Bremen, agrees.
He says Bremen is promoting its fairy tale-theme tour, which is perfect for parents and children, as the city is known for the fairy tales of the Brothers Grimm such as Sleeping Beauty and The Pied Piper of Hamelin.
Hilgers is quite confident about the Chinese market and says they are expecting 2.2 million overnight stays from China in 2020.