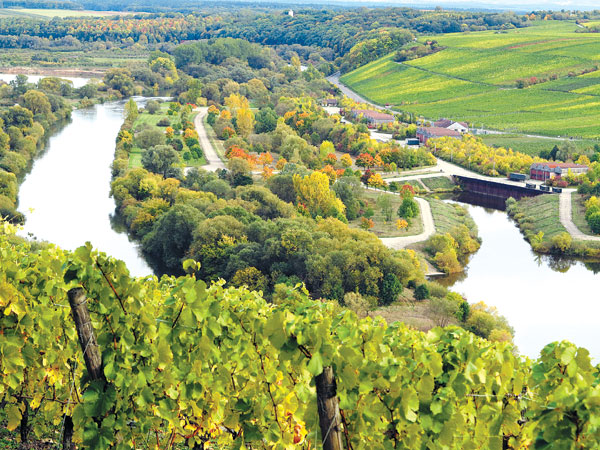 The Main River curves through the Franconian wine country. Photos by Chen Liang / China Daily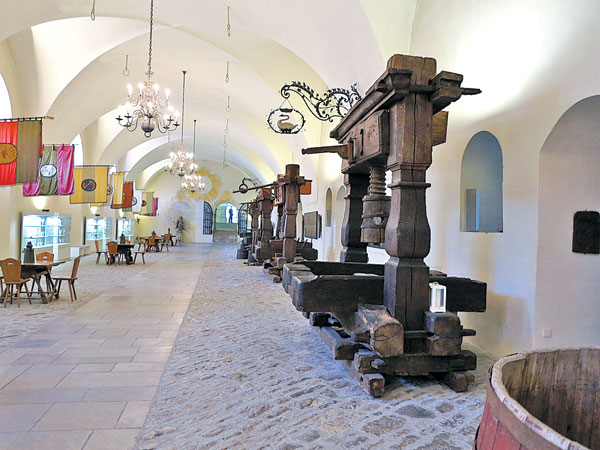 Traditional wooden wine presses are displayed in the museum at Fortress Marienberg in Wuerzburg.
Bavaria's wine country is one of the nation's best-kept secrets, well worth a journey of discovery, Chen Liang reports.
For many of us Chinese, "made in Germany" stands for quality products, from world-class cars and machines to kitchen stoves and knives. But the manufacturing giant doesn't immediately make us think of good wine.
So it's a bit of a surprise that Lin Yisong, a businessman from Hangzhou, Zhejiang's provincial capital, bought a 17-hectare vineyard in Franconia, Germany in 2010.
On a recent trip to Franconia (also known as Franken) and Baden, two of Germany's 13 wine regions, I joined a familiarization tour organized by the German National Tourist Board.
We visited vineyards and winemaking cooperatives in the regions and, after sampling and enjoying a few glasses we can understand the attractions for a savvy businessman.
Our first stop is Wuerzburg, the major city in Franconia in the federal state of Bavaria. The historical town, known for fine examples of Baroque architecture, is bordered by vineyards that often overlook the Main River that curves through the city.
Strolling around its old part, one can hardly believe that a college-like historical complex has sheltered both a hospital and the cellar of Germany's second largest wine-growing estates.
Related: Traditional beer brewer Cantillon in Belgium
In 1576, Prince-Bishop Julius Echter laid the foundation stone for building the home for all sorts of "poor, afflicted, and disgraced persons " To enable it to meet its social responsibilities, the home was richly endowed with agricultural land and vineyards.
Today, the Juliusspital Wuerzburg cultivates some 172 hectares of vineyards in the vicinity of Wuerzburg and neighboring areas on the lower Main.
Under the hospital still in operation, we walk in a 250-meter-long tunnel flanked by 220 huge wooden barrels. They have the capacity to fill about 1 million bottles of wine.
A few of these barrels are nearly 100 years old and many have beautiful carving in relief on their lids. The largest one can contain 8,500 liters of wine.