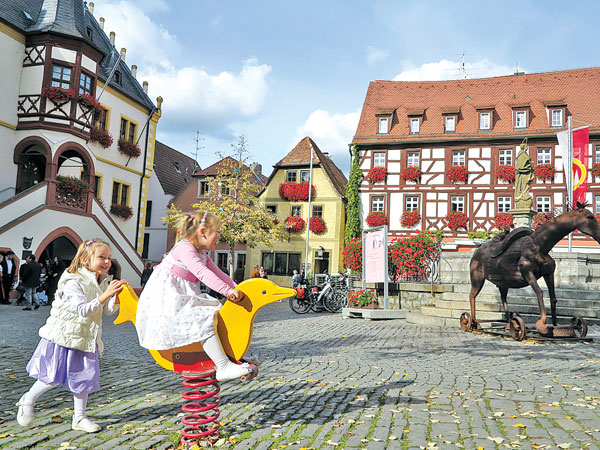 Winemakers in Volkach, a beautiful old town in Franconia, produce more than 100 kinds of wine.
In the ancient cellar, we taste Juliusspital's 2011 silvaner trocken. The dry white wine, made from silvaner - one of the region's most popular grape varieties - is very crisp and fruity. We also become familiar with the Bocksbeutel - a wide, round bottle that only Franconia and certain small parts of the Baden region are allowed to use in Germany.
After getting a glimpse of Franconia's lengthy wine tradition, we visit more vineyards near Volkach, a beautiful old town in the Franconian wine country. The area of Volkach, composed of 10 villages with a total population of nearly 10,000, has 10 privately owned wineries and much more grape-growers, which can produce more than 100 kinds of wine.
Spreading on the sunny slopes facing the clean Main River, these vineyards all have beautiful setting. According to our guide at Volkach, Marco Maiberger, the river helps create prefect microclimates for several grape varieties, such as Mueller-Thurgau, silvaner, Bacchus and Kerner.
Smaller grape-growers who do not commercialize their own wine often deliver the grapes to a winemaking cooperative, Maiberger says.
We visit the promotion center of Divano Nordheim, an example of cooperatives famous in Germany. Established in 1951, its membership includes 220 growers, cultivating wine on an area of 260 hectares.
At Divano, I taste several kinds of the cooperative's white and red wine. Fruity, elegant, crisp or heavy with the fragrance of blueberry, they are all impressive and priced below 10 euro ($13). Because of the price and decent quality, I see quite a few German visitors buying wine by cases.