A classical Chinese garden adorns Washington DC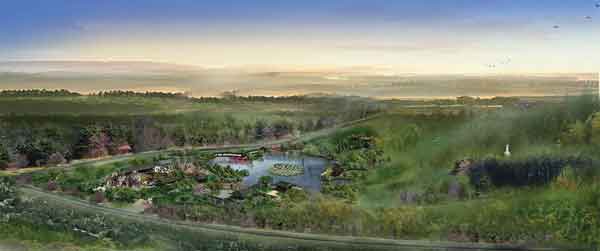 The blueprint of the National China Garden to be installed at the US National Arboretum in Washington DC. Provided to China Daily
A classical Chinese garden will be installed at the US National Arboretum in Washington DC, in a joint collaboration between China and the United States.
Featuring a series of open pavilions, a pond and traditional Chinese buildings with Ming (1368-1644) and Qing (1644-1911) style furnishings, the garden will showcase Chinese flora and landscaping, and will be open to the public.
"Our goal is to create a symbol of good will between China and the US, and to strengthen the platform for US-China relations," says Bob Stallman, president of the National China Garden Foundation.
"A large part of the US population still doesn't understand much about Chinese culture, and this will be an opportunity to see the beautiful tranquility of a Chinese classical garden, and be exposed to a sampling of Chinese arts and culture."
Although the project was initiated in 2004 as the result of an agreement between the US Department of Agriculture and China's Ministry of Forestry, plans stalled for several years.
In 2008 the new Farm Bill authorized the Secretary of Agriculture to proceed with private fund-raising for the garden, and in 2011, China's former ambassador to the US, Zhang Yesui, and US Secretary of Agriculture Tom Vilsack signed an updated Memorandum of Understanding.
The National China Garden Foundation is currently finalizing design plans, and is in talks with potential donors and sponsors for the garden, which will be entirely privately funded. For the garden to begin construction, the foundation will need to raise $60 million. If all goes according to plan, the garden will open in 2016, Stallman says.
The land, utilities and infrastructure for the garden will be donated by the US government; the Chinese government will provide 22 structures, labor, landscaping and rockeries for the garden, which will be shipped to the US and assembled on site.
The Chinese design team, led by professor Peng Zhenhua of the Chinese Academy of Sciences, is working with the USDA and the National Garden Foundation to create a garden that will stay true to the classical Chinese garden style, while catering to Western audiences, Stallman says.