Treasured Islands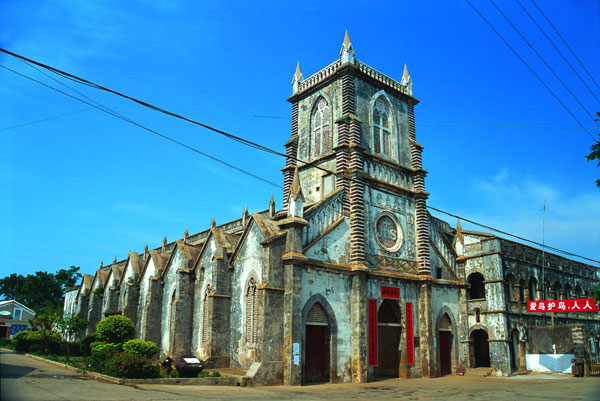 The Catholic church in Shengtang village on Weizhou Island was built using the island's volcanic rocks and coral. Provided to China Daily
A small, enchanting isle makes the perfect getaway for Dragon Boat Festival, we recommend four of the best.
There's something appealing about the idea of escaping the grind of daily routine by cutting and running to a desert island. The thought of sun, sand and sea appeals to the Jack Sparrow in all of us. Fortunately, you don't have to go far to find a place where your imagination can bring you a distant horizon and you can savor the finest fruits from the sea. For instance, Weizhou Island in the northern part of Beibu Gulf is hailed one of China's most beautiful islands. It not only features fabulous sea views, but also boasts diverse Hakka customs. While Nan'ao Island in Guangdong province is the home to hundreds of tropical and sub-tropical plants. Both Qiandao Lake and Zhoushan guarantee people fresh and tasty sea food.
Primal seaside landscapes shaped by volcano
As China's largest, youngest volcanic island, Weizhou Island to the southeast of Beihai, Guangxi Zhuang autonomous region, is a showroom for nature's craftsmanship.

Once-molten lava frozen by time thousands of years ago has been putty in the hands of the sea, the waves sculpting it into caverns, pillars and terraces and the sinewy shapes of petrified plants and animals.
A 3-meter-tall, 6-meter-wide mushroom stands near Xigang wharf and there are a turtle, seal, manatee and whale, to name just a few of the marine creatures that turn the bay at the south end of the island into a marvelous stone menagerie.
Besides the beautiful scenery onshore, divers can enjoy the underwater kaleidoscope of China's own "Barrier Reef", as the offshore marine areas are perfect cradles for coral.
Shiluokou Beach on the west side of Weizhou is probably the best beach for diving on the island, and nearby is a belt of acropora corals that stretches several kilometers waiting for you to explore.
The undersea volcanic rocks will also delight divers, as colorful fish will play hide-and-seek among the holes in the rocks.
Weizhou Island is also known for its breathtaking sunrises and sunsets.
Sesame Beach, which got its name because it looks like it's covered with shimmering sesame seeds, is the place to go to watch the sunrise.
The best place to appreciate the sunset is Drippy Rock beach, where vegetation cascades down a 10-meter high rock face. A French Catholic church that was built in 1880 with volcanic rocks and coral is also a must-see attraction and it is still in use today.
Visitors are strongly recommended to stay overnight at a family inn, as the hospitable hosts can take you out sea fishing, or show you where to pick up oysters when the tide goes out or how to catch crabs on the beach at night.
Besides seafood, jackfruit and bananas are also tasty and plentiful on the island.
From Weizhou Island you can see Xieyang Island, which is covered with acacias and cactus flowers. It takes about 30 minutes to reach and offers an even quieter experience, as there are no restaurants or hotels.
You can explore the Ox Nose Cave in the north, or stroll down the eastern beach to appreciate the bizarre knots formed by marine abrasion.