Ambassador: More tourism and trade ties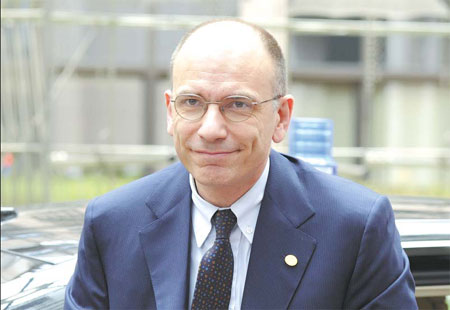 Italian Prime Minister Enrico Letta will inaugurate a business forum in autumn to boost cooperation with China. [Photo/China Daily]
New visa and business rules designed to forge stronger bilateral links
The Italian ambassador to China is calling for more effort to seize opportunities offered by booming Chinese tourism with a new visa processing system and protection measures.
Alberto Bradanini said his home country also hopes for more Chinese investment in various sectors and called for a more balanced trade at a time when Italian economy is striving to recover from crisis.
"In about three to four months, there will be a new strengthened mechanism to improve the visa issue and it'll be easier for Chinese to get visa," Bradanini said during a recent interview with China Daily at the Italian Embassy.
"At the same, we will enhance the protection to ensure the safety of all foreign tourists in the country including those from China as tourism is clearly an important industry for Italy," he said.
His remarks came after a series of robberies of Chinese tourists in Europe, sparking concerns over safety.
Saying the incident should not deter Chinese tourists from going to Italy, Bradanini stressed that his homeland is one of the safest country to visit.
Chinese tourism is a major new source of revenue for European nations.
In 2011, the number of tourists from China surpassed their US and Japanese counterparts to become the biggest foreign spenders in Italy, according to a report by La Stampa, a national daily newspaper published in Turin.
But Italy has lagged behind France, Greece and Spain in attracting Chinese tourists.
Bradanini said measures tailored for China's outbound tourism is about to change that situation.
The new visa scheme is expected to ensure that more than 1 million Chinese tourists arrive in Italy during Milan Expo in 2015, he said. At the same time, tourists are expected to have a tailor-made welcome in Italy that includes Chinese-language brochures, Mandarin-speaking tour guides and even a Chinese-language tourism App for iPhone users.