Romantic places to visit in China
Editor's note: Nothing is nicer than getting away for a romantic holiday with someone special. And here are four of the most romantic places to visit in China, for you to choose from.
1 Shanghai's Tian'ai Road
There's no doubt that the 500-meter Tian'ai ("sweet love") Road is the city's most romantic site. Tian'ai, in Hongkou district, attracts quite a number of lovers who come to scrawl their names or commitment on the walls along the street. Many believe that if they walk the entire route, their love is blessed forever and they'll never be separated.
Lovers can also enjoy some of the 28 classical love poems, framed on the walls of the street, and maybe stop and have a chat in the nearby Tian'ai Cafe.
2 Chengdu's Love Crossing
Many locals used to come to this diagonally striped street crossing to take wedding photos because of its proximity to the Hejiang ("convergence of two rivers") Pavilion, as a symbol of their love. Then in 2009, local traffic police painted the words "I love you" in red, with two linked hearts on the crossing as a sort of blessing for lovers - and a more earthly reminder to beware of the traffic. This red blessing also means it's an emotional safe zone for those who are in love.
3 Hangzhou's West Lake
This lake is justifiably famous for its picturesque surroundings, but there are also many romantic love stories attached to it. One of the best known involves the White Snake legend. The story goes that a white snake fairy, Bai Suzhen, encountered a poor scholar, Xu Xian, on Broken Bridge and fell in love with him at first sight. They got married and had a son but were separated later.
4 Sanya's Tianya Haijiao
The name of this site on Hainan Island means "edge of heaven, corner of the sea" and it's a popular tourist attraction in the resort city of Sanya. When Chinese lovers say they'll follow each other to the edge of heaven and corner of the sea, they mean they'll never part. At the beach resort, you'll find two giant rocks with "tianya" and "haijiao" carved on them so couples can go there to swear an oath of allegiance.
More on travel, here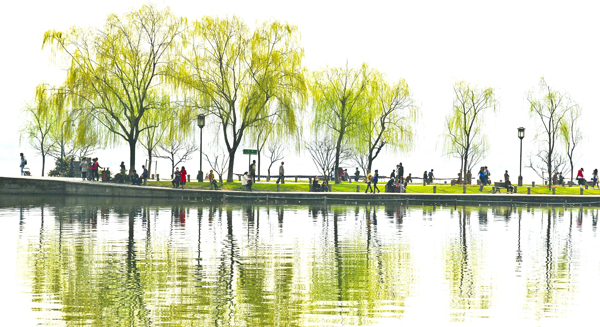 [Photo/China Daily]