Visitor finds third time a charm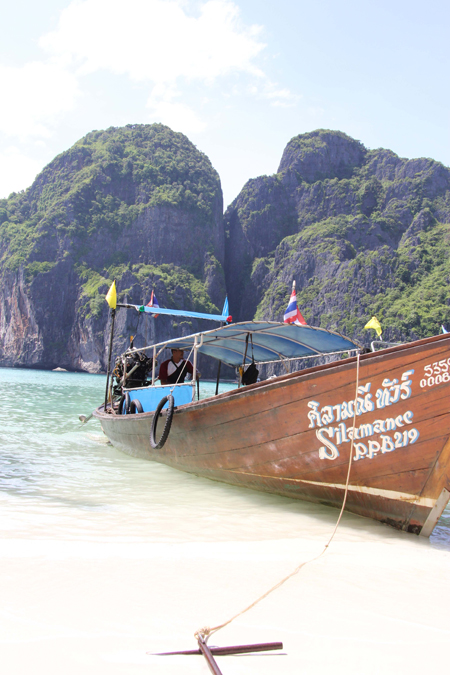 Phi Phi Islands provide a magnificent view of limestone mountains and sandy beaches.Fu Ji / for China Daily
This was my third trip to Phuket.
The first was as a student on a cultural exchange where we performed Malay dances from my native country accompanied by a traditional musical troupe.

With not much cash and being watched closely by our teachers, the trip did not leave much of an impression except the warm hospitality of the Thai students, a brief boat ride to Phi Phi Islands and changing into different costumes in lightning speed to perform at various venues.
The second time was dramatic, to say the least. My family, 10 in all, had our air tickets and hotel reservations weeks in advance because it was the peak vacation season.
About two or three weeks before the trip, my sister's mother-in-law, who was supposed to go with us, had a heart attack. We were ready to cancel our trip.
Her heart bypass was successful and she asked us to proceed with without her. She had two other children to take care of her.
We went ahead with the trip, heavy hearted.
We flew back on Christmas Day, 2004, the day before the massive tsunami hit Phuket and took thousands of lives. The resort where we stayed on Karon Beach was badly damaged. My family and I were blessed to have escaped death.
Even today my mother insists the heart attack was meant to stop us from going to Phuket, but since we went ahead with the trip, divine intervention prevented the tsunami from hitting until after we left.
My third time to Phuket, although not as dramatic as my second, had its own share of excitement. I was supposed to leave on the 4:30 pm flight from Beijing and transit at Guangzhou, Guangdong province. But the flight was two hours late.
By the time I got to Guangzhou, and after going through customs and immigration, I was told at the departure gate that I missed the flight to Phuket. The next flight was at 2:30 pm the following day to Bangkok and I would not arrive in Phuket until 8 pm.
After pleading with the ground crew, I managed to get on a flight to Phuket via Kuala Lumpur, Malaysia. Although physically tired, there was joy in my heart. I finally arrived in Phuket 20 hours later. I could have reached New York City in that time.
Apart from the dramatic journey, everything else was superb, from the resort to the people, food, weather, calm seas and Phi Phi Islands with its hues of blue and green in the surrounding pristine waters.
The immaculate sea makes it possible to see marine life within a short distance from shore and it feels like looking at fish in a huge aquarium.
Phuket, I will be back very soon.