Uncovering a city's past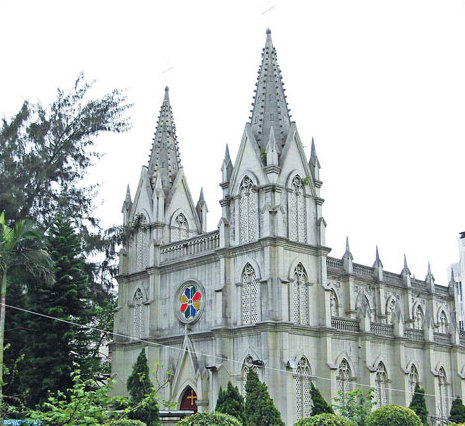 A Catholic church, built in 1902, remains in use in Zhanjiang, as an example of the city's colonial-era architecture. Zou Zhongpin / China Daily
Guangzhouwan, a former treaty port in Guangdong province, features early 20th-century French architecture that tells of its storied past. Li Wenfang takes a closer look.
Researching the history of Guangzhouwan during its French occupation can easily provide material for a hundred doctorate degrees. At least this is what He Jie, a local journalist and head of the society being built on such research, believes.
Guangzhouwan once referred to an area made up of a few villages on Guangdong province's Nansan Island. It is now part of the city of Zhan-jiang, located in the southwestern part of the province.
The name Guangzhouwan, also spelled Kwangchowan, was adopted when 518 sq km of land and some of its surrounding sea, was leased by the Qing Dynasty (1644-1911) to France in 1899. In 1943, it was occupied by Japan, and two years later returned to China, after which it was renamed Zhanjiang.
Guangzhouwan's colonial history has been largely "covered in dust" and deserves attention from Chinese scholars, He says.
Previous Chinese studies on Guangzhouwan merely focused on the Chinese resistance to French invaders, says Ye Caiping, former deputy curator of the Zhanjiang Museum.
Guangzhouwan became a duty-free port in 1912. The French designed it to counter the growing power of neighboring Hong Kong, then under British rule, He says.
Its once vibrant foreign trade - reaching a peak of 160 million francs in 1916, as a French general put it in his memoir - is only the tip of Guangzhouwan history's iceberg.
After the War of Resistance against Japanese Aggression broke out in 1937, it remained the only free port connecting China with the rest of the world, and its business thrived.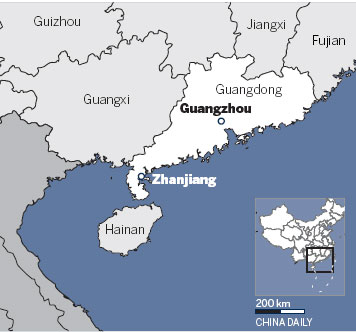 Wen Yiduo, a contemporary Chinese poet, included Guangzhouwan in his famous poem Songs of Seven Sons. Written in 1925, the poetry talked about the seven places along the Chinese coast ceded to foreign powers and how the Chinese longed for their return to the motherland.
But at the same time, people realized foreign occupation also brought new ideas into China.