A life by the wall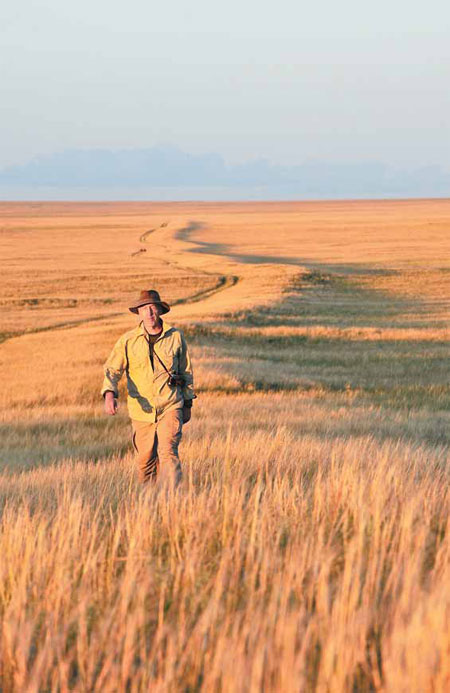 William Lindesay walks on the grassland of Mongolia in search of a previously unknown section of the Great Wall. James Lindesay / for China Daily
Not even a Chinese knows the Great Wall of China as well as this British adventurer and writer. Mark Graham talks to the man who has spent much of his life exploring the whole length of mankind's most ambitious building project.
When, as a schoolboy, William Lindesay announced grand plans to explore the Great Wall, nobody took him too seriously. But Lindesay achieved his goal - and much more - by running the length of it, spending four years of his life on the iconic structure and becoming one of the world's foremost experts on its rich history.
More than a quarter of a century has passed since Lindesay's solo run along the Great Wall, an epic journey from the far west of China to the point where the structure meets the sea, and to mark the occasion, he has released a new book, The Great Wall Explained, with a series of stunning photographs and fascinating essays.
Running the length of the world wonder was a brave - some might say foolhardy - expedition, venturing into sparsely populated regions where there was little chance of help if the runner had a mishap. The Briton endured extreme heat, giant blisters and chronic fatigue during the grueling run, which took place in two parts, during spring and fall, to avoid the more extreme heat of midsummer.
Along the way, Lindesay was helped by friendly village folk, who offered him shelter and sustenance, although their initial reactions were always puzzlement, wondering why a tall Englishman had suddenly turned up at their isolated villages.
When he explained his mission, they were even more baffled, unable to understand quite why a foreign visitor would have such a fascination with the Great Wall, or have the urge to run 3,000 kilometers along its length.
Officialdom was rather less tolerant of Lindesay's cavalier approach. He was arrested or detained nine times for not having the right permissions, but he has long been forgiven for those audacious transgressions. One town where Lindesay passed through has made him an honorary citizen while in Beijing, where he lives and works, the mayor conferred on him the Beijing Great Wall Friendship Award.
In total, Lindesay estimates he has spent something like 1,600 days of his life, or four full years, on the Great Wall in all seasons. On one expedition out in the Gobi Desert, near the town of Dunhuang, the explorer and accompanying camera crew came perilously close to death from dehydration.
More recently, Lindesay and an exploration team ventured deep into the Gobi Desert of Mongolia, in search of a previously unknown section of the Great Wall. With the help of a Mongolian geographer and the assistance of the Mongolian army, the wall was located. Carbon dating estimated that the rammed-earth structure dated back to the 11th century, meaning it was likely to have been built by the Western Xia Dynasty (1038-1227).
"It sent a shiver down my spine," says Lindesay.
"It is totally not known to anybody, I don't know of anyone witnessing this part of the wall in recent times. It was never known that the Western Xia built a wall, but clearly they needed a wall to deal with attacks from individual tribes, even before Genghis Khan.
"In some ways this is just the beginning, in just that segment alone there are 250 kilometers of territory to investigate. It is like an unfolding story; like with all my Great Wall exploits, one thing leads to another."