Airline news and deals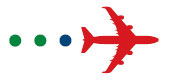 China Southern Airline will launch a flash sale from April 17 to 19 to offer discounted international round-trip tickets.
The prices range from 490 to 2,990 yuan ($79-482) to cities around the world. Travel dates are from May 17 to Oct 26.
www.csair.com.
Shenzhen Airlines has reopened its route between Jieyang of Guangdong province and Wuxi of Jiangsu province from April 10. It adds a daily flight between Jieyang and Haikou of Hainan province, offering discounts of up to 60 percent for round-trip tickets.
www. shenzhenair.com.
With the launch of Little Red flights on April 9, Virgin Atlantic unveils its new UK domestic service. It offers multiple daily flights from London to Manchester, Aberdeen and Edinburgh.
It also marks the connection to the rest of the world from UK, including to Shanghai in China.