Entrepreneur likes prospects for traveling around Russia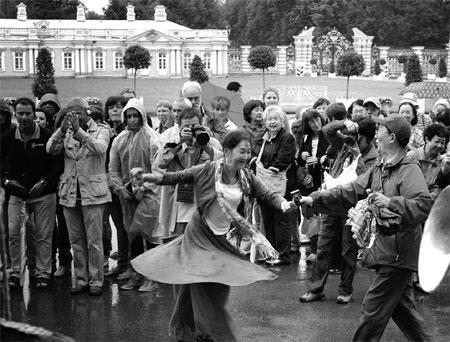 Chinese tourists get into the swing of Russian dancing during one stop on a Volga River cruise. Provided to China Daily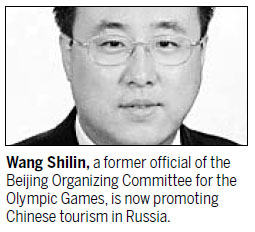 When Wang Shilin closes his eyes and thinks about Russia, the first picture that comes to his mind isn't the grand palace of a czar or the frenzied shopping in modern Moscow.
Wang sees 2,000 smiling Chinese, relaxing on a cruise ship steaming up the Volga River.
That's his goal as general manager of Global Travel, which operates summer tours on the legendary waterway that are exclusively for Chinese tourists.
"Six months in advance, we rent the whole boat," he says, opening his arms wide. "Chinese enjoy mixing with foreigners, we are friendly people. But for a cruise like that, for about a week, we like having familiar food and guide service in our own language."
"This is the fifth year this cruise has been operating," he says. "Most of our customers come to us thanks to word of mouth."
Wang's team took a thousand Chinese on the Moscow-St. Petersburg route in 2012, on four boats, and feels confident about doubling the passengers - and revenue - this year.
Thinking big is nothing new for Wang. The chief of protocol for the 2008 Beijing Olympic Games - officially the vice-director of the Beijing Organizing Committee for the Olympic Games International Relations Department, his job was to "make sure that the Olympic Family members will enjoy their stay in Beijing", from the International Olympic Committee members to athletes to VIP guests.
A large photo near his office entrance shows a smiling Wang escorting veteran US diplomat Henry Kissinger to his seat during the Games. Other pictures show Wang greeting all sorts of other global celebrities during that momentous event for China.
Now he is focusing his people skills on making Chinese guests happy, and more than half of that effort is focused on travelers headed to Russia.
After the founding of New China in 1949, he says, there were very close relations between Moscow and Beijing. "And there were all sorts of exchanges - art, education, technology - everything!" The young people who participated in many of those programs are retirement age now, he says. "They have money, and they have a nostalgia for Russia sometimes even if they never actually went there.
"Young people like me don't remember that," he says, "but our parents do. So we put together a package of things from their memories or their dreams: the great cities of Moscow and St. Petersburg, and in between this beautiful river and scenery. And we make it a show all the way we work with the Ministry of Culture to bring along members of two choral associations, one national and one from Beijing."
If you'd rather have a leisurely game of bridge on deck, no problem. Wang has teamed up with the Beijing Bridge Association to bring high-school players and bridge-club members aboard to act as hosts and teachers. "We're adding a Danube cruise to our lineup this year, and a Black Sea cruise in 2014," he says, with choral performances and bridge games on every nautical mile.
"Our trips are five nights and six days, with lots of time on the boat," he says, "but with a chance to get off the boat every day, too."
Wang was thrilled when President Xi Jinping and his Russian counterpart Vladimir Putin formally kicked off the 2013 China Year of Tourism in Russia during Xi's recent visit to Moscow. Wang, of course, has been gearing up for the occasion, taking a troupe of 110 Peking Opera singers to Russian last year, and a similar-sized group of primary-school children and 10 adults early this year.
"They are really our cultural envoys," he says of the kids, some of whom were from Beijing but many from Henan province as well.
"That's what it's all about," he adds. "That's what I'm all about."
michaelpeters@chinadaily.com.cn
(China Daily 04/04/2013 page5)