Exploring China's spring destinations
The arrival of the traditional Chinese Tomb-sweeping Day also marks the highpoint of the spring season. People hold memorial ceremonies for their ancestors and deceased family members, and venture outside to embrace nature as a good sign for a better life on the horizon. This is why the day is also referred to as Taqing, which means "hiking in green."
It is also the best season to enjoy the beauty of the new flowers in bloom. The kingly peony, the golden cole flower, the elegant cherry blossom and many others bloom throughout China. The cultural surroundings also add greater joy when walking through an ocean of flowers.
Peony in Luoyang, Henan province
Peony has been favored by Chinese people for more than 1,500 years since the Sui and Tang dynasties (581-907). Millions of tourists come to Henan's Luoyang in spring just to get a glimpse of the regal flower. The city of Luoyang is filled with 40 million peonies of 1,000 different species, which are scattered among more than 10 scenic areas such as Luoyang National Peony Park, China National Flower Park and Suitang Arboretum.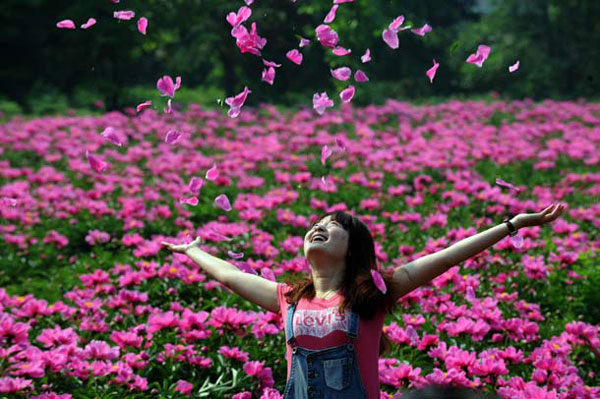 The China Luoyang Peony Cultural Festival has been designated as a state-level intangible cultural heritage, which will be held from April 5 to May 5 this year. Aside from flower exhibitions, there will be a series of cultural events such as
art
exhibitions, a Chinese chess tournament and group wedding. Some intangible cultural heritage performances like Ruyang puppetry will also be at the festival.
If you go:
There are various products made by the peony flower that are worth buying, such as peony wine, peony essential oil and peony tea. - Try the traditional Luoyang Water Banquet, which is composed of 24 soup dishes with a varied assortment of flavors. - Pay a visit to the world-famous Longmen Grottoes in Luoyang, which features 2,345 caves with some 100,000 Buddha statues. - The legendary Shaolin Monastery is just 49 kilometers from Luoyang.