High-speed destinations for the holiday
Xi'an
Xi'an used to sound like a remote place from Beijing reachable only by airplane, but now the high-speed train takes you there in about 5 hours. If you get up early enough, you can even leave in the morning and arrive in Xi'an just in time for lunch.
Xi'an is the capital of Shaanxi province, but more importantly, it is an ancient capital of China, having held the position under several of the most important dynasties in Chinese history, including Western Zhou (c. 11th century-771 BC), Western Han (206 BC-AD 24), and Tang (AD 618-907).
With more than 3,100 years of history, Xi'an is also the eastern terminus of the Silk Road and home to the Terracotta Army, which is undoubtedly the most popular attraction in the city.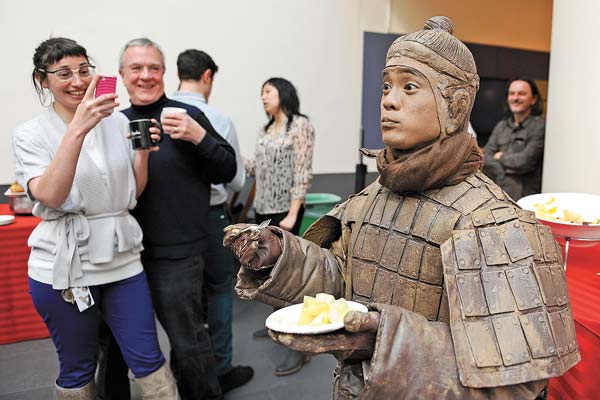 A man clad as a Terracotta Warrior draws visitors' attention to the first major US exhibition of relics of the Qin Dynasty (221-206 BC).[Photo by Chen Gang / China News Service]
The Bell Tower and Drum Tower, located in the city's central axis, is a good area to stay in. Although the drum and bell no longer announce the official time, the structures still provide one with a historic feeling.
The area is close to Muslim Street, which is full of Muslim restaurants. Here you can taste authentic Xi'an snacks like soup dumplings and pita bread soaked in lamb soup, among many other delicacies.
Muslim Street is part of the Muslim Quarter of Xi'an, which came into being during the Tang Dynasty and practically remains intact to this day. In the heart of the Muslim Quarter is the Great Mosque of Xi'an, which was founded in 742 and is one of the oldest and most renowned mosques in the country.
The mosque is completely Chinese in its construction and architectural style, except for some Arabic lettering and decoration, showing the efforts of Muslims acculturating to the local culture.
A popular tourist site of Xi'an, the mosque still functions as a place of worship and you may see Chinese Muslims congregating to pray if you visit at the right time.
Xi'an contains hundreds of royal mausoleums and tombs from different dynasties. The city also has numerous ancient pagodas and is noted for its stele forest, which is housed in an 11th-century Confucian temple containing large stone tablets.
One of the easiest ways to soak up Xi'an's history is to take a walk on its well-preserved city wall, which was re-constructed in the 14th century and still surrounds the historical city's downtown area.