High-speed destinations for the holiday
Jinan
Capital of Shandong province, Jinan is an unassuming city often neglected by tourists. However, the city offers more than one might expect.
Jinan is nicknamed "City of Springs" because of its abundant supply of artesian springs. Most of the springs, many of which have been historically listed under the "72 Famous Springs," are located in the downtown district and flow north where they later converge in Daming Lake.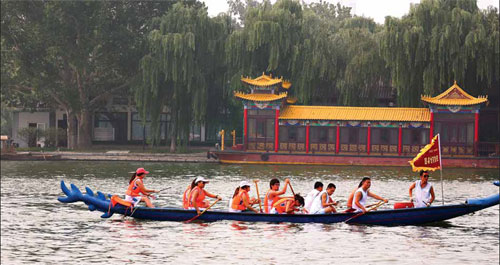 The annual boat race held at Daming Lake, a water mass created by the convergence of hundreds of springs. Photos by Ju Chuanjiang / China Daily
The Baotu Spring Park is Jinan's most popular tourist site. Baotu means "jumping and leaping", because the water in the spring pool can be seen foaming and gushing, taking on the appearance of a pot of boiling water.
The spring was visited by the Emperor Qianlong (1711–1799) of the Qing Dynasty (1644-1911) who declared it "the first spring under the heaven". A tablet upon which the Emperor wrote "Baotu Spring" stands beside the spring pool.
Baotu Spring is the most famous spring in Jinan, but it's the more down-to-earth small springs that dot the old districts that give the city its personality.
The late-Qing author Liu E describes Jinan's cityscape in his novel The Travels of Lao Can as, "Every family has spring water, every household has a willow tree."
Now maybe not every family has spring water, but if you stay at the Pearl Spring Hotel, you can enjoy the accompaniment of a spring in the courtyard.
Walk outside of the hotel and follow a small alleyway to the west and you will see traditional houses that seem unchanged from centuries ago. Walk further and suddenly you will find yourself in front of a big spring pool in the heart of the alley.
This is Zhuoying Spring, or more colloquially known as the Wangfu Chiz (Pool of the Prince's Household). The combination of the pool and the houses beside it both create a picture right out of Venice, Italy. People swim in the pool throughout the year, as the spring water is warm in winter and cool during the summer. If you don't feel like partaking, you can watch people play chess by the pool while enjoying the atmosphere of old Jinan.
When you have worked up a healthy appetite, you can visit the nearby Furong Alley, where you will find something interesting in the restaurants and stalls offering food from all over China. In the alley there is a small temple worshipping the god Guangong, in which you can also find a small spring.
In April when spring comes and willows turn green, it's a good idea to drink tea at a teahouse beside Daming Lake, or ride in a boat to around Jinan's moat, one of the few in China currently in existence. Anyway, regardless of what you do in Jinan, most of your activities will be associated with water.