Sleepless in Seoul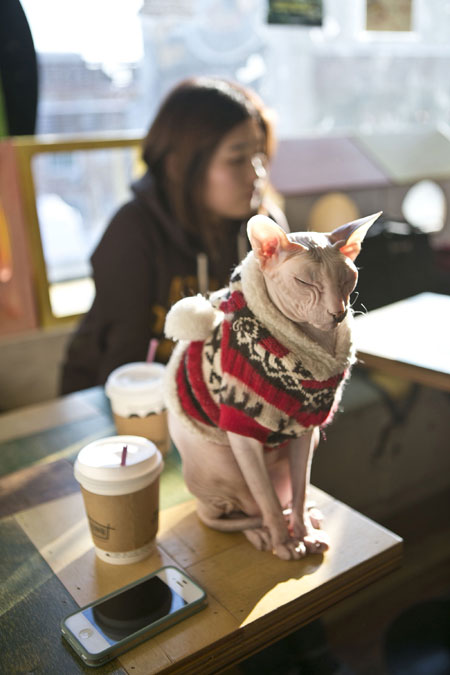 58-2, Myeongnyun 4-ga, Jongno-gu. 82-2-744-6570.
Cat Cafe: About 20 cats of various breeds live in this scrupulously clean cafe. Cat lovers whose homes are too small to house a pet can spend time playing with and photographing the residents while enjoying their coffee.
36-1, Myeongnyun 2-ga, Jongno-gu. 82-2-766-3123.
Cafe Comics: In a basement cafe, sliding shelves house thousands of comics that customers can browse before settling down on small sofas to sip coffee and read for hours at a time. Figurines of comic book heroes keep an eye on cozy couples.
7, Myeongnyun 4-ga, Jongno-gu. 82-2-747-6708
General Doctor: This retro-look cafe is actually a waiting room for a medical office on the floor above, created to make visitors feel at home and surrounded by friends. Sixties-style furniture, bits of Lego and a few resident cats give the place an informal atmosphere.
362-1, Seogyo-dong, Mapo-gu. 82-2-322-5951
Princess Diary: Owned by a former wedding dress designer, this spot hosts giggling girls and couples who come to play dress up. Guests can choose from a range of wedding and party dresses (tuxedos for the men), get their hair and makeup done, and of course, take photos.
54-9, Ewha B/D, Daehyeon-dong, Seodaemun-gu. 82-2-313-3323
The New York Times