Monkeys rule in Qianling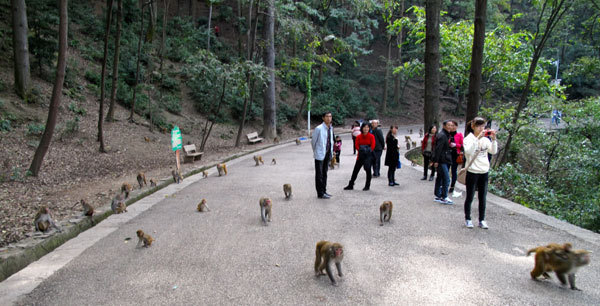 Wild monkeys are the main attraction at Qianling Mountain Park.
It's a flashflood of fur.
Monkeys gush out of the woods and over visitors' feet.
The macaques' hoots mix with the humans' shrieks - of fright and glee - as the creatures whirl around pedestrians' ankles.
Some scamper up tourists' bodies to perch on their shoulders like parrots on pirates. And, like Polly, they want a cracker - or whatever grub visitors can proffer.
But these creatures aren't just little beggars - they're also petty thieves.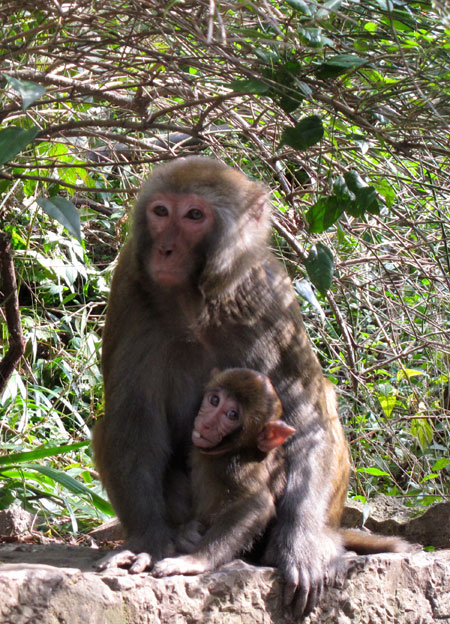 They'll swipe anything edible or drinkable, given the chance. They're astute at opening boxes and bottles, and it's not uncommon to see them sporting yogurt mustaches.
The more than 500 wild simians are the main attraction at Qianling Mountain Park, a national tourist destination, with seven other major allures.
Qianling's nine peaks and eight scenic spots offer a grab bag of leisure. Its disparate offerings include carnivals, caves and camels.
Its sites are Sanlingwan; Macaque Garden; Hongfu Temple; Kylin Cave; Qianling Zoo; Qianling Lake; Two-Dam Wind-Rain Bridge; and Winding Mountain Path.
The 426-hectare park's location 1.5 km outside the center of Guizhou's provincial capital Guiyang contributes to its allure.
But despite areas that resemble fairs, the park is mostly a nature reserve.
About 98 percent of Qianling is forested. These woods teem with more than 1,500 tree and flower species, and more than 1,000 rare herbs.
The highest peak of the "No 1 mountain in southern Guizhou" - a province celebrated for its alps - is Dalou, which juts 1,500 meters into the sky.