Snow, rain add to travel pressure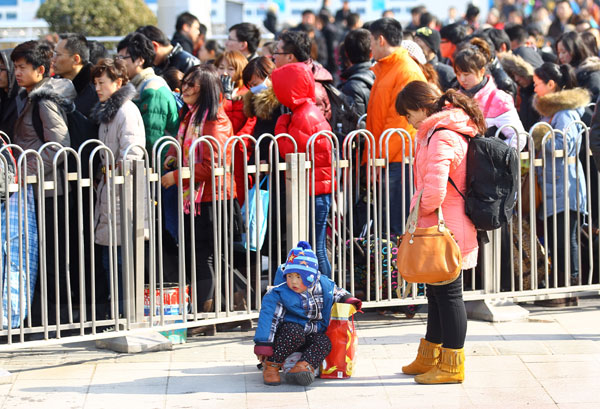 People returning to Beijing after spending the Spring Festival holiday at their hometowns line up to take the subway at the Beijing Railway Station on Friday. Zou Hong / China Daily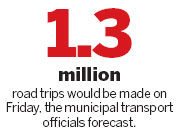 Worsening conditions mean a cold, slow start to the New Year for many
Snow and rain is expected to sweep most of China's populous regions on Saturday, affecting the ongoing travel plans of tens of millions of people returning to work after the Lunar New Year holiday.
From Friday night to Sunday, moderate to heavy snowfall will hit western and southern parts of the Tibet autonomous region, with some areas experiencing blizzard conditions, the National Meteorological Center said on Friday.
The worst-affected regions can expect snowfall of 20 to 40 mm, it said.
Lighter snow flurries are expected in the northern parts of the Xinjiang Uygur autonomous region, most other parts of Tibet, most of Northeast China, the northeast of the Inner Mongolia autonomous region, and southern parts of North and Northwest China, the center said.
The center also forecast light rain and showers for northern and eastern parts of Southwest China, and most of South and Central China on Saturday and Sunday.
It added that starting on Saturday, a strong cold snap will affect most parts of the country, dropping the mercury by an average 6 to 10 degrees, and noted that some places could experience a temperature drop of up to 14 degrees.
Officials warned the expected adverse weather is likely to put further pressure on the country's road and rail networks, already busy from holidaymakers returning home.
Early on Friday, several sections of highways in Hubei, Hunan and Jiangsu provinces were temporarily closed due to dense fog, the Ministry of Transport said.
Light rain fell on the Guangxi Zhuang autonomous region, southern parts of Hunan province and neighboring Jiangxi province, making the roads slippery and slowing road traffic.
The rain is expected to last through Saturday, according to forecasts.
Light to moderate rain will also hit Shanghai over the weekend, just as the city's highways become busy with private cars and long-distance buses.
The rainy weather has coincided with drivers rushing to take advantage of free tolls on highways for passenger cars with fewer than seven seats.
But that ended at midnight on Friday, with most businesses re-opening on Saturday after the holiday break.
Meanwhile the Beijing Railway Bureau said it expected at least 380,000 passengers to arrive in the capital on Friday, and reported long lines of up to an hour for taxis at its main stations.
Highways in the city were also crowded, and municipal transport officials forecast that more than 1.3 million road trips would be made on Friday, a 46.4 percent increase compared with the same period last year.
In Guangdong, another travel hotspot for white-collar and migrant workers, the provincial bus transport station began operating 24 hours a day on Thursday to deal with the surge in numbers.
Nationwide, more than 7.4 million train trips were expected to be made on Friday, making it the busiest travel day of the year so far.
The transport ministry said 783 extra train trips were provided to help with the rush.
zhaolei@chinadaily.com.cn