Where longevity is longstanding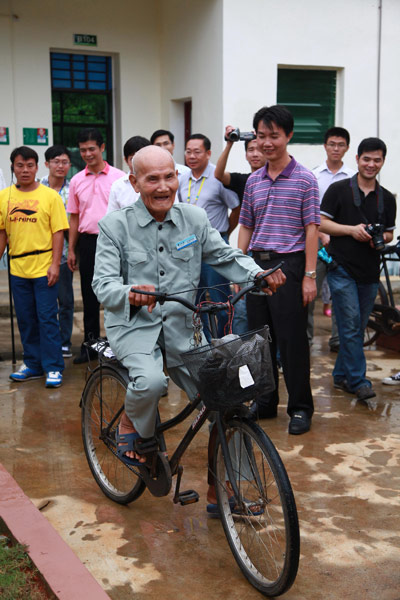 A centenarian riding a bicycle draws a crowd in Chengmai county, which was recently named "a world longevity area". Provided to China Daily
Getting old isn't something to fear - if you live in the right place.
One such locale is Hainan province's Chengmai county, which was recently recognized by the International Expert Committee on Population Aging and Longevity (IECPAL) as a "world longevity area".
"Getting old in Chengmai is something to look forward to," says the committee's chairman, professor Joseph Troisi.
The average life expectancy is 77.79 years, the county's deputy head Zheng Fangping says.
Chengmai is home to 215 centenarians - 38 per 100,000 people. That ranks No 1 among all Chinese cities and counties.
Chengmai is in Hainan's northwest, near the capital Haikou. The county is known for high forest coverage and selenium-rich soil.
It's the province's third oldest city, with about 2,100 years of history.
About 18,500 of the county's 565,000 people are older than 80. Among them, 896 are couples.
IECPAL is an NGO established this year by the Northeast Asia Economic Forum. The forum and Hainan's provincial government organized the Second International Conference on Aging Population and Longevity in Chengmai from Sept 5 to 7.
More than 60 experts, scholars and government officials from Japan, South Korea, the United States, the United Kingdom, Italy, Germany and the European Union attended, as did representatives from China's most recognized longevity areas.