Paradise of birds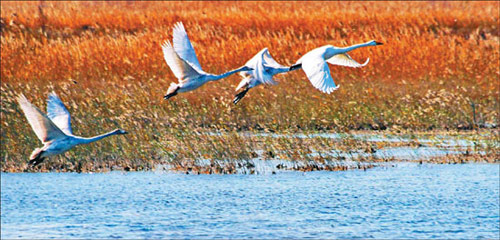 The white swans are among the nearly 300 bird species that find the Yellow River Delta Nature Reserve a haven for rest and breeding. Photos by Ju Chuanjiang / China Daily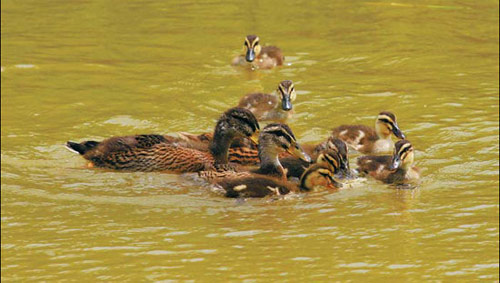 Wild ducks in the nature reserve attract millions of nature lovers every year.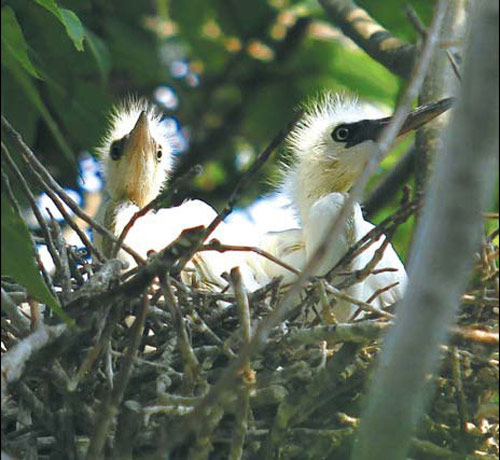 Egrets in the nature reserve attract millions of nature lovers every year.
The Yellow River Delta Nature Reserve in Shandong province is blessed with various species all year round, an ideal habitat for migratory birds from inner lands to the Pacific. Ju Chuanjiang and Wang Qian go back to nature to file this report.
Although it isn't the best season for watching migratory birds, our trip to the Yellow River Delta Nature Reserve, in Shandong province, doesn't let us down. Home to one of China's best wetlands, it has been a paradise for diversified groups of birds all year round.
After about a 30-minute drive from the downtown of Dongying, a vast expanse of reeds slips into view, dotting the shining surface of lakes. From a distance, we see flocks of widgeons and spot-billed ducks flying over the reeds. Egrets twitter in the woods and whooper swans rest on the lake in their usual elegance.
Shan Kai, a specialist working with the nature reserve's research station, attributes the marvelous scene to the local government's constant efforts to restore the wetland and improve its ecological environment.
"Since the nature reserve was established in 1981, we have taken a series of measures to restore the wetland and protect its wildlife, including water diversion and storage facilities, returning farmland to wetlands and building special feeding and breeding zones for birds," Shan says.
According to Shan, a total of 23,333 hectares of wetlands have been restored over the past few years and another 43,333 hectares are expected to be restored by 2015. A 200-hectare winter-wheat field has been built in the nature reserve, which will provide food to birds flying to the nature reserve in winter.
Located at the estuary where the Yellow River flows into the Bohai Sea, the nature reserve covers an area of 153,000 hectares, on one of China's largest wetlands, and continues expanding every year as silts carried by the Yellow River deposit in the area.

It is home to more than 1,920 species of flora and fauna and serves as an ideal habitat for migratory birds from inner lands to the Pacific.
The number of birds has increased to more than 6 million from 4 million about 10 years ago, and the bird species have grown from 283 to 296, accounting for 20 percent of the total bird varieties in China.
Among them, 52 species are endangered birds under national protection, such as red-crowned cranes, oriental white storks, Chinese goosanders, white cranes and golden eagles.
It is also a natural breeding base for oriental white storks, red-crowned cranes and Saunder's Gulls. About half of the world's population of these endangered species flourishes in the area.
"These migratory birds have spirits. If the environment is unpleasant, they will fly away and won't come back next year. But, the nature reserve has attracted increasing numbers of wild birds. Thousands of egrets even stay here permanently," Shan says with pride.
To better protect these birds, a special breeding zone was established in March, where about 30,000 spot-billed ducks, swans, wild geese and mandarin ducks breed under the watchful eyes of researcher Guo Wei and his team members.
Guo, 45, has bred birds for more than 20 years and knows everything about different birds. Every day, from 5 am to 10 pm, he feeds these birds, protects them from visitors' excessive disturbance and gives them proper medical treatment when necessary.
Despite working and living in the pristine wilderness without any amusement facilities, Guo enjoys his job.
"He is my best friend and always follows me everywhere I go," he says gleefully, pointing at a yellow wild goose hovering over our heads.
"I give them different names. When I call them, they will fly toward me as if they can understand what I mean."
"But, the white swan is still very sensitive and vigilant. They will fly away as soon as I get close to them, even when I am trying to feed them," he murmurs.
According to Gao, the nature reserve has become a successful example of wetland and bird protection, which has gained recognition from local and international conservationists.
It is a bird research base for several colleges and universities. An international bird-watching festival and bird photo contests are held here annually.
With its unique beauty, the nature reserve is now a vacation destination and attracts millions of nature lovers, hikers and photographers from home and abroad every year.
Among them is Li Weidong. The 42-year-old is a big fan of bird watching and drives to the nature reserve almost every weekend with his friends and families.
"You are very lucky. Tourists used to see only a few migratory birds in the nature reserve during this time of the year, but now various birds flourish in the area all year round," Li tells us.
"These wetlands and birds are nature's gifts to us. We should treat them well," Li adds.
Contact the writers at juchuanjiang@chinadaily.com.cn and wangqian2@chinadaily.com.cn.