Sacred and secular delights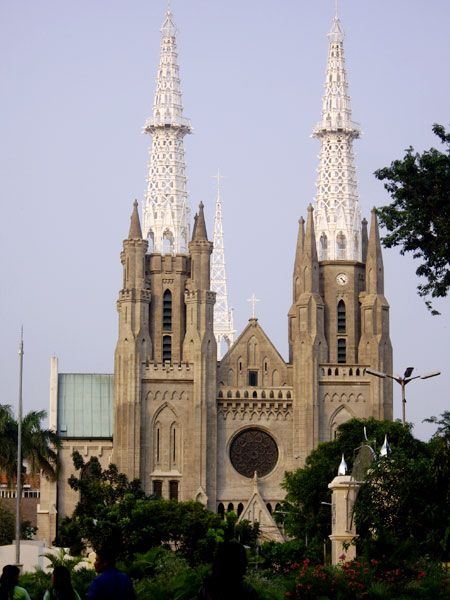 The century-old Jakarta Cathedral features warm wood, colorful stained glass and intricate moldings. Photos by Rebecca Lo / For China Daily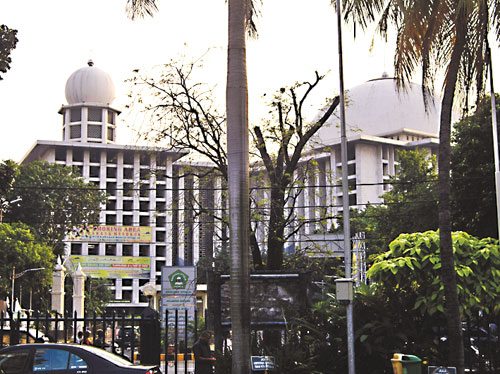 Istiqlal Mosque has the capacity to hold 200,000 worshippers.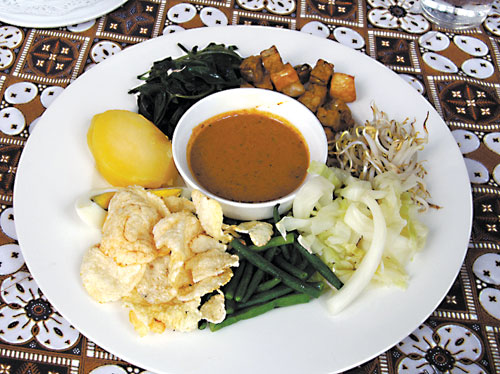 Vegetarian options at Cafe Batavia.
Jakarta's spectacular religious architecture is tempered with the hedonistic pursuits of shopping, good food and blue cocktails. Rebecca Lo enjoys it all.
Suhaemi, my Jakarta Silver Bird taxi driver, once again apologizes for the traffic jam we are stuck in. Although we are only traveling a few kilometers from my hotel, Pullman Central Park, the journey to Istiqlal Mosque takes well over half an hour. It is a typical experience for anyone attempting to navigate the Indonesian capital's city center at any hour during the day.
"Would you like me to wait?" he asks politely, finally depositing me outside the largest mosque in Southeast Asia and third largest in the world.
"I think I can walk," I say, eyeing my next destination across the street: Jakarta Cathedral.
"Best that I wait and then drive you over to the cathedral," Suhaemi insists. "It's very hot today."
I finally agree, since it was a sweltering 33 C in the shade. I make my way inside the imposing concrete structure, where I am immediately greeted by Japyapi, an English-speaking guide who ushers me into a change room to don a bright caftan that covers my arms and hair.
"This mosque has the capacity to hold 200,000 people for prayer," he says. "Some 65,000 people can fit on the ground floor alone. There are five levels. Construction began in 1961 under former Indonesian leader Sukarno and it was completed in 1978.
"Istiqlal means independence and the mosque is a symbol for tolerance. A Protestant architect designed it: Frederich Silaban, from Sumatra. He used a combination of Indonesian marble and Japanese stainless steel. The central dome has a diameter of 45 meters."
Sukarno, Indonesia's first president, handpicked the site to be directly across from the century-old Jakarta Cathedral, although his successor Suharto got the credit for inaugurating it after Sukarno's death in 1970.
While the designer part of me appreciated its international-style architecture tempered with local materials, the mosque is a far cry from grand dames such as Istanbul's Blue Mosque.
It has a detachment about it warmed only by the devotion of its worshippers. Even the stylized cutouts of stainless steel, while looking great in photos, have a Miesian coolness that seems at odds with the nature of their purpose.
In contrast, Jakarta Cathedral is all warm wood, colorful stained glass and intricate moldings. Otherwise known as The Church of Our Lady of Assumption, its present edition was consecrated in 1901 on the same site that an earlier version stood from 1829 until it collapsed in 1890.
Inside, the church chronicles the history of Dutch Roman Catholicism in Indonesia prior to the country's independence, while its Neo-Gothic stone facade is balanced by the lacy airiness of its three white spires. The cathedral, mosque and National Monument nearby in Merdeka Square make up Jakarta's social and religious hub.
By now in need of some sustenance, I head to Batavia for something tall and cool. My friends Mui Yoon, Reggie and Suryani join me and we choose a table in Cafe Batavia overlooking Taman Fatahillah square.
Open in 1993 yet steeped in old-world charm, the sun room where we sit is bathed in natural light and dotted with giant palms surrounding worn cane-backed chairs, making it feel like a private club.
Gazing out the window, I notice that the pink and blue row of bicycles with matching straw hats parked to one side of the square is deserted on a day that is best spent indoors for fear of melting.