Love and wine festival in Changli
The Third China Love Festival kicked off on Qixi Festival (Aug 23) - Chinese Valentine's Day - in Changli County in Hebei province. At the same time, the 13th Changli International Wine Festival was held during Aug 23-26.
There were splendid performances at the opening ceremony, and the most eye-catching one was a creative ballet dance. The dance was accompanied by a classical Chinese song, Liangzhu ("Butterfly Lovers"), and ended with the actress standing on a red wine bottle.
Many couples were present at the Love and Wine Festival and they were invited to write down their names on wine barrels, which would be sealed later with wine inside, to bless their love forever.
Moreover, a summit forum was held with experts discussing the wine industry of China. A competition among high-quality international wines from famous regions also debuted at the festival, with 15 experts on red wine from home and abroad making up the judging panel. The result will be released at the end of August.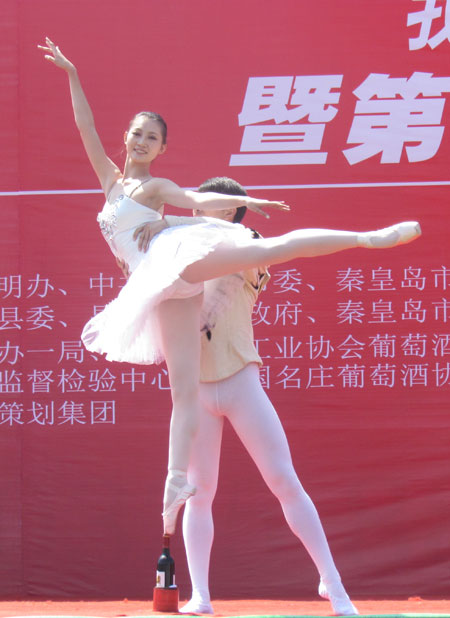 A ballet dancer standing on a wine bottle during dance performance at the Love and Wine Festival in Changli, Hebei province.[Photo/chinadaily.com.cn]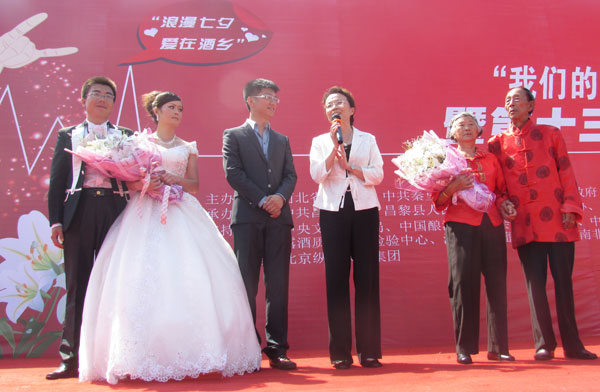 Newlyweds and a couple who have been married for 50 years, were given wishes from Shi Xiaofeng, Qinhuangdao's publicity chief at the opening ceremony of the Love and Wine Festival in Changli, Hebei province.[Photo/chinadaily.com.cn]