Spirits lifted by Qingdao festivals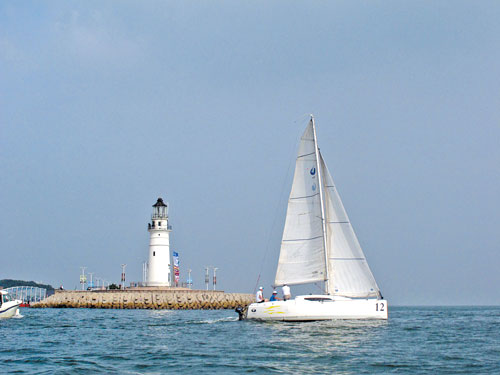 Qingdao comes alive as the annual Sailing Week gets under starter's orders on Saturday. [Photo by Wang Kaihao/China Daily] 
'You've come at the right time," says the taxi driver who picks me up from the airport in Qingdao, Shandong province.
The festival season is in full swing in the city, from the annual Sailing Week and Beer Festival to the first Fireworks Festival.
I was expecting to get some fresh air and have a fun weekend in this beautiful coast city.
The ocean is attractive, dotted with boats gathered for the 4th Qingdao International Sailing Week, which is running until Sept 2.
More than 700 sailing boats and sailboards created a colorful pageant near the marina of Qingdao International Sailing Center, at the opening of the festival on Saturday morning. The center hosted the sailing competition of the 2008 Beijing Olympic Games.
Unfortunately, it was cloudy in the morning and I could not see the blue ocean as expected. Worse, it was not windy enough for good sailing.
A little disappointed, I switched to an international sailing photography exhibition at the sailing museum by the port, waiting for a better weather. I hardly noticed an old man wearing stylish sunglasses, who turned out to be Goran Petersson, the president of International Sailing Federation.
"The festival has already become a well-known part of international sailing's treasure and attracted so many people in sailing communities around the world," Petersson says.
The next day's weather conditions were perfect for sailing. Petersson competed as a senior sailor, with his colleagues in ISAF. They lifted the curtain on a series of friendly regattas throughout the festival.
I took a rubber dinghy to get a closer view and cheer racers, while kids boarded the sailing dinghies. I'm sure there will be more Chinese gold medal sailing winners in the future.
I felt a little weary after my seaside excursion, but my spirits were lifted when I arrived at the Qingdao International Beer Festival venue, just a 30-minute drive from downtown.
I missed the opening ceremony on Aug 11, but spent about 100 yuan ($15.73) on 1 liter of beer, barbecued seafood and enjoyed the free live bands.
Drinking competitions are a must-see. This year's champion was a man who drank 1.5 liters of beer in 7.9 seconds.
I felt puzzled in front of the various beer brands from all over the world. Some German blondes carrying huge beer glasses shuttled among customers. For one second, I imagined I was in Munich.
Germans built Qingdao's first brewery in 1903 and introduced beer culture to local residents during their rule over the city between 1897 and World War I.
The brewery later produced Tsingtao Beer, which has become synonymous with the city.
I am not a good drinker, and soon became tipsy after trying several different beers. I went to the seashore to enjoy the breeze and was overjoyed to watch a splendid, one-hour-long fireworks show on the sea - at the city's first international fireworks festival.
It felt like a long weekend.
wangkaihao@chinadaily.com.cn