A golden twilight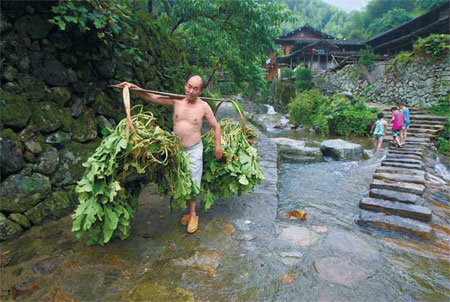 A resident of Linkeng village in Nanxijiang is on his way home. The area is home to China's last well-preserved historic villages. Photos by Gao Erqiang / China Daily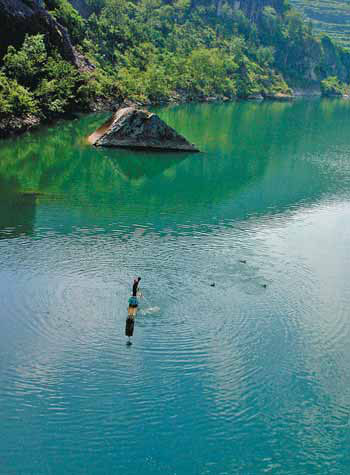 Nanxijiang boasts picturesque landscapes. Wang Wen / for China Daily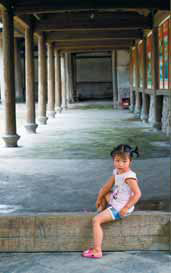 Yantou village can be traced back to the Five Dynasties and Ten Kingdoms (AD 907-960).
Ancient hamlets are rapidly disappearing but in some areas they are preserved for tourists and may have a bright future. Xu Junqian reports in Wenzhou, Zhejiang province.
The golden twilight casts a surreal glow on the babbling brook winding through the village, where middle-aged mothers in floral prints squat and do the laundry. Their naked kids take rides on the wooden, goose-shaped laundry baskets, as if it was a river adventure in a Tom Sawyer story.
The sound of wet laundry hitting the rocks, chitchat from the housewives, giggles and shouts from the kids, mingle with Kunqu Opera, which the men are enjoying in the village square.
While this used to be a common scene in East China's water towns, it is rare these days. So, Nanxijiang, in Zhejiang province, is a bit like a time capsule and has buildings that date back to the Tang Dynasty (AD 618-907).
But even here, when the kids grow old enough, they are starting to move on to the "modern, convenient, urban life" advocated by pop culture.
Nanxijiang is one of the last gucunluo, or ancient hamlets, in English. It's a term used by historians and architects to describe traditional neighborhoods.
A recent research by the Chinese Folk Literature and Art Society suggests that in 2000 there were more than 3.6 million "natural villages" in China - a neighborhood formed by people naturally rather than "administrative villages" determined by government.
In 2010, the number dropped to 2.7 million, with more than 900,000 villages simply disappearing, as the residents flocked to cities.