Flying with the birds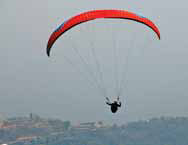 Parahawking is more than the experience of just flying. D J Clark / China Daily
It takes almost an hour to ride the taxi from the banks of Pokhara Lake in central Nepal to the summit of Sarankot Hill. That's almost an hour in an enclosed space with a 70-cm tall Egyptian vulture perched next to you if you have signed up for a parahawking ride with British-born Scott Mason.
"For me it's a spiritual feeling. I am obsessed with birds," he explains as we sit down in the garden of his home/restaurant/guest house/bird rescue sanctuary after one of his flights.
"To be in the air with them, to see the expression on their face, to predict their movement, to observe their behavior is like a dream come true for me. I try to pass that passion onto my passengers.
Related readings:


 Horse caravan, a scene soon to disappear


 Beautiful view of Mongolia's Terelj National Park


 Escape the Beijing Heat at Ice Mountain Range
"It might only be a once-in-a-lifetime experience so I am determined to make sure they make the most of it."
Mason went to Nepal 10 years ago on a round-the-world travel break from running a graphic design business in London.
After taking a paragliding flight in the mountain city of Pokhara, he observed many birds of prey flying near him and had the idea to try and train one of them to fly with the paraglider.
That night he approached the company manager to pitch his idea. As Mason was about to leave Nepal he had a call about two black kites that had just been rescued and was asked if he wanted to try and train them.
"Within a blink of an eye, I changed my plans and decided to stay and that is how it all started," Mason recalls.
Standing on a small grass embankment on top of the hill, Mason and local pilot Damodar Parajuli prepare two guests with simple instructions on how to run, jump and grasp raw meat in a gloved hand.
Kevin, the white Egyptian vulture, sits on a handler's arm on top of the bank excited like a dog about to be taken on a walk.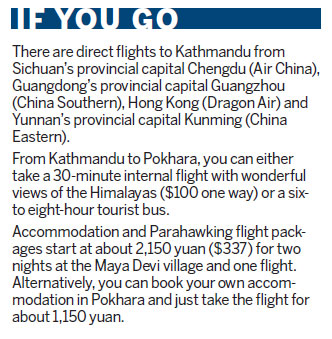 With a "one, two, three" they all run and jump with the paragliders quickly taking them off into the air and Kevin gracefully following in full flight.
It's a magnificent view on a clear day, with the Annapurna snow-capped Himalayan mountains in a curve around the lake 700 meters below.
"The birds have eyesight 20 times better than us and they can see the thermals from a long way off," Parajuli later explains to me. "They move to them to climb up and catch insects caught in the dust. The birds show us the thermals so we can climb with them."
The half hour graceful flight strapped to the body of a professional pilot costs around 1,150 yuan ($180). That's more than double the cost of a flight without the birds but Mason is quick to point out that this is far more than just the experience of flying.
"We don't buy, we don't sell, we don't breed birds. We rescue them. If we can't get them back to the wild, then we have to provide them a life in captivity where they are happy and enriched. Parahawking was born out of that concept," Mason says.
Vultures in Nepal, Pakistan and India are almost wiped out because of the recent use of diclofenac, a drug used on livestock that is highly toxic when consumed by the birds.
"It's not just about the flight, it's an overall experience promoting bird of prey awareness and conservation," he adds.
To any tourist visiting Nepal who has the resources and pluck to give it a go, flying through the Himalayas with a bird of prey right beside you, watching its every move and with an organization that has it's sights set on conservation of the birds, is indeed a highly recommended experience.
djclark@chinadaily.com.cn