More than just flights of fancy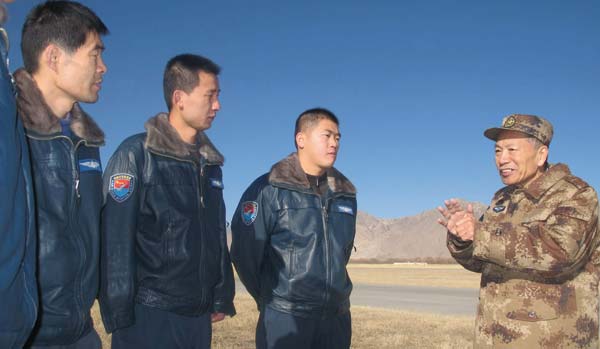 Yu Mengsun, 75, talks to air force pilots at the 5,374-meter Ganbala Radar Station on the Qinghai-Tibet Plateau. Provided to China Daily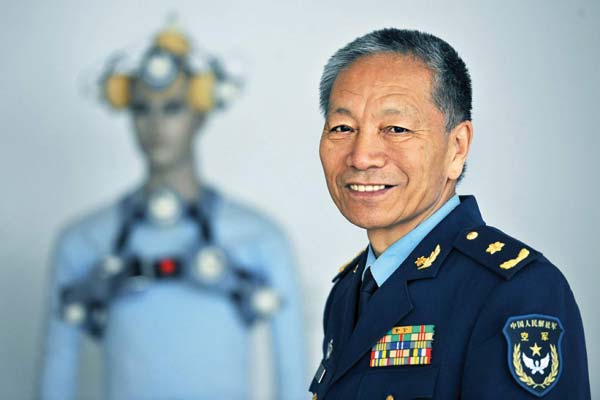 Yu Mengsun, the founder of aviation biomedical engineering studies in China. Yu Chunhong / for China Daily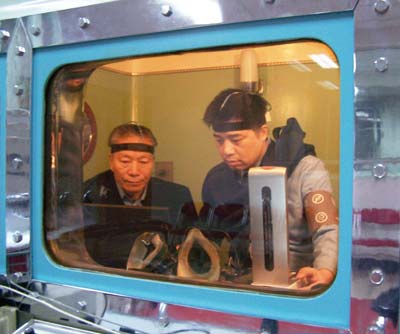 Yu conducts an experiment on sleep quality.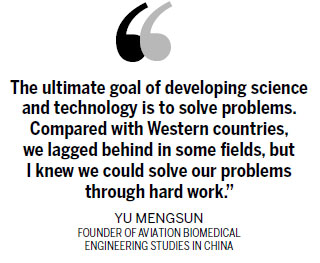 Yu Mengsun has dedicated himself to improving the flight safety of air force pilots in a more than 50-year career. Wang Ru reports.
In 2010 and 2011, 75-year-old Yu Mengsun twice reached the 5,374-meter Ganbala Radar Station on the Qinghai-Tibet plateau, the world's highest manually operated radar station.
He did so to check the health condition of air force soldiers and conduct his research on the plateau's oxygen supply in heavy storms.
It is not the craziest thing Yu has done. In 1972, in order to test safety and get accurate data, Yu risked his life sitting in an ejector seat propelled by a rocket, into the sky.
As an academician of the Chinese Academy of Engineering, and the founder of aviation biomedical engineering studies in China, Yu's research is vital to the development of the air force in China.
Thanks to his groundbreaking inventions and military applications research during his more than 50-year career, the safety of generations of military pilots has been enhanced.
"Science will finally smile on you, if you don't cheat her," Yu says.
He was born in Shanghai, in March 1936. At 15, he attended a military college, then studied at the Medical College of Nanjing University, before he was transferred to the Air Force Military Medical School.
After graduating in 1954, he joined an air force unit as an assistant surgeon. Since 1955, he has been working at the Air Force Institute of Aviation Medicine.
When he was an intern at the institute, a teacher showed him an electric hearing device made by Siemens, one of only two in China, imported from Germany.
Yu decided to make one. He collected machine parts and started to copy the product. During an experiment a fuse blew and the whole building experienced a blackout. His hearing device was confiscated, but when the institute's professors eventually discovered it functioned as well as the imported ones, he was recruited.
In the 1950s, due to the absence of aviation medical telemetry equipment, a real-time data transfer technique only possessed by the United States and the former Soviet Union at the time, the health condition of pilots could not be checked during flights.
In 1958, Yu developed the country's first aviation medical telemetry equipment. In 1972, putting his own safety aside, Yu tested out a rocket ejection seat. The data he collected from the risky experiment made him a pioneer in the field.
"His research still contributes to the safety of pilots in advanced jet fighters," says Luo Yongchang, director of the Air Force Institute of Aviation Medicine.
In 1974, the medical team responsible for the health of leaders - including the former chairman Mao Zedong and premier Zhou Enlai - asked Yu to make health monitors for them.
After the country started its reform and opening-up process, China started to import precise medical instruments, most of which were very expensive.
"The ultimate goal of developing science and technology is to solve problems. Compared with Western countries, we lagged behind in some fields, but I knew we could solve our problems through hard work," Yu says.
He says his research shows that sleep problems for pilots caused 10.5 percent of accidents.
For decades, the only way to examine an air force pilot's sleep quality was through a doctor observing and questioning.
Yu found that when people sleep, their heartbeats, pulse and breathing convey how well they are sleeping and a computer can analyze this information.
Over the next 10 years, Yu and his research team made numerous experiments and eventually invented a sleeping monitor mattress - the most developed product of its kind - to analyze the sleep quality of its users. It is now widely used by the People's Liberation Army air force.
Since 2011, Yu and his colleagues have been to Qinghai-Tibet Plateau four times to research and collect health data on pilots who arrive at a high altitude place for the first time.
He has also developed a low-oxygen chamber with normal air pressure to help pilots adapt to the plateau environment.

Due to his inventions, the air force is now able to simultaneously measure 12 physiological and physical parameters of pilots within a 300 km flight radius.
"Thanks to Yu's painstaking efforts, the combat power of the air force on the plateau has been increased," says Xie Guanglin, political commissar of the Air Force Institute of Aviation Medicine.
Contact the writer at wangru@chinadaily.com.cn.