Bullets fly, tears fall and military history marches on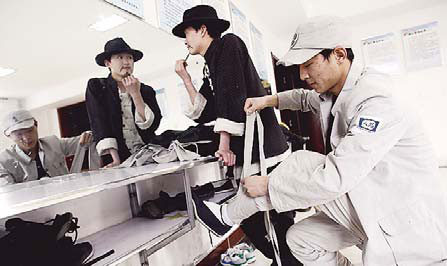 Performers prepare for the drama Taihang Mountain Guerrilla staged at Eighth Route Army Cultural Park in Wuxiang county.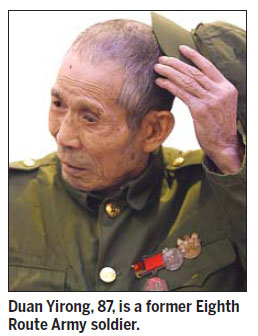 Bang!
The gunshot isn't real, but 87-year-old Duan Yirong's sobs are.
Next comes a bugle blast, calling Eighth Route Army soldiers to a village.
Drumbeats and gong clangs follow, as farmers greet the Chinese soldiers, as Japanese troops approach. Moments later, the invaders are plundering the village and scouring for Chinese soldiers.
But the attackers have little inkling the villagers and troops have set up an ambush and are defeated.
These scenes come from the drama Taihang Mountain Guerrilla at the recently built Eighth Route Army Cultural Park in Wuxiang county of Shanxi province's Changzhi city.
The show fuses live acting with video to commemorate the army and enable visitors to understand Chinese soldiers' real-life experiences.
Duan was one of the soldiers who lived what he's watching re-enacted onstage.
He fought with the Eighth Route Army in Shanxi, which was among the bloodiest battlegrounds during the War of Resistance against Japanese Aggression (1937-1945).
Duan was born in 1925 in Yugou village in Wuxiang, which became the Eighth Route Army's base in Shanxi. He enlisted at age 18 and served under Liu Bocheng and Deng Xiaoping.
Duan fought from 1948-49 in the famous Huaihai Campaign, which was the crucial battle of the War of Liberation (1946-49).
He lost his left eye and still carries a bullet in his chest from the Dujiang (Crossing the Yangtze River) Campaign.
Duan will never forget when then Chairman Mao Zedong coined the slogan "Crossing the Yangtze River and liberating China" on April 21, 1949.
"We crossed the Yangtze on boats," Duan recalls.
"One of the boatmen asked me: 'Are you scared?' I said no. Then, he smiled and said to me: 'There are so many boats carrying soldiers like you, so be grand and powerful'."
The gunfire looked like rainfall, Duan recalls. He was shot and lost consciousness.
"When I came to, I was numb to the pain and could hear our soldiers cheering," Duan recalls.
"I knew we had won."
The injuries forced him to retire from the military and return to his hometown in 1949.
Today, Duan lives with his second son and daughter-in-law. His hearing is fading, but his memories of war remain clear. He speaks slowly.
While he never went to school or learned how to write, he published The Soul of A Soldier in 2007 to chronicle life in the Eighth Route Army.
Duan says Taihang Mountain Guerrilla is based on a true story.
The term from which the play takes its namesake was coined by Zhu De, a principal Communist Party of China leader and Chinese People's Liberation Army founder.
The performers display their admiration after they learn Duan was a real Eighth Route Army soldier.
"While we never experienced the days of war, we've read many stories about the history," 27-year-old Yan Haibin, who plays the traitor's role, says.
"Playing war was our favorite childhood pastime, especially for boys."
Performer Yang Lei says he feels depressed about playing the role of a Japanese invader. The 24-year-old hopes to play a hero one day.
Sun Mingda plays the role of an Eighth Army soldier.
The 22-year-old salutes Duan and says: "Today, I'm proud to meet the real soldier."
Duan responds by saying: "Where we're from, stories are based on fact."
He lifts his shirt to reveal the bullet hole scar in his chest.
"This is real," he says, pointing to the scar. "It was so painful and nearly killed me but was worth it."
Duan says he's often asked why he joined the army.
"Before I joined, many people in our country, including me, were beaten and killed by Japanese soldiers. I lived a terrible life. People died every day in our village. Picking up a gun and joining the army was the best way to protect our homeland and improve our lives."
Duan met President Hu Jintao when the leader visited Wuxiang and its retired Eighth Route Army soldiers on the 60th anniversary of the victory of the War of Resistance Against Japanese Aggression (1937-45).
"President Hu held my hands and asked about my age and current life conditions," Duan recalls.
"I was too excited to say anything. He left me 2,000 yuan ($316). His visit meant the country still remembers us."
More than 90,000 Wuxiang residents - out of 140,000 - joined the Eighth Route Army after its 1938 founding. They fought more than 4,300 battles against the Japanese. More than 40 of their bases and stations remain.
Wuxiang has become a popular "red culture" tourism destination. The Eighth Route Army Commemoration Hall was built in 1984 and a theme park opened a year ago.
The county hosted the first Eighth Route Army Cultural Festival last August. Duan and 80 other retired soldiers were invited to visit the park, where photos, sculptures and food from the army were displayed.
The goal is to preserve details from the army to remind people of the past, says Zhang Hui, market-planning supervisor of Shanxi Red Culture Tourism Development Co, which founded the outdoor park with the support of the local government.
Duan says the Eighth Route Army theme park and the commemoration hall are meaningful projects.
"It brings alive the heroic history and nightmarish days we endured," Duan says. "It opens a frightening window on war but also conveys the meanings of loyalty and sacrifice."