Seniors go to day-care nursing home every day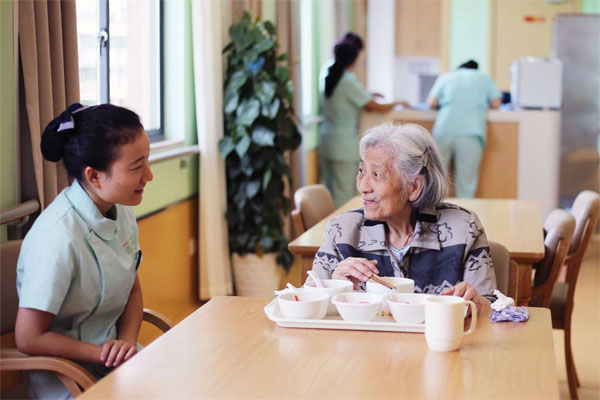 An undated photo shows an elderly woman dining at a nursing home in Hangzhou. [Sun Yidou/For China Daily]
Trapped in the dilemma of staying with family members or receiving professional care? Seniors in Harbin, the capital of Northeast China's Heilongjiang province, have a new choice to enrich their life in retirement, as harbin.dbw.cn reported.
They can take a shuttle bus to a day-care nursing home every day between 8 am and 5 pm, just like others go to work, and commute back home to be with their families in the evening.
In the nursing home, they will receive professional care, have lunch, use fitness equipment, take part in activities such as calligraphy and singing, and take university courses designed for senior citizens. The nursing home even provides beds for all of them.
According to city office data, there were 1.75 million seniors aged 60 or above by end of 2015. Although the figure does not show a complete picture, less than 10 percent of seniors choose to stay in nursing home while most live at home. Loneliness and shortage of care are the major problems facing the stay-at-home seniors.
"After my mother passed away, I struggled to take good care of my father," said an office worker surnamed Zhou.
Zhou's worry echoes those who have retired parents. They think their parents spend a dull and lonely day at home every day, watching TV all day, stuffing their stomach with food and no place to cultivate their personal interests. The situation becomes worse in winter when elders are unable to venture out due to the cold.
The report said nearly half of the people having retired parents prefer day-care nursing home.
The cost of such nursing homes varies according to the physical condition of senior applicants but stands at around 2,000 yuan ($290).
Another problem is the shortage of facilities. Even if two seniors share a room in the day-care nursing home, the city still lacks at least 100,000 such rooms, the report citing an industry insider said.