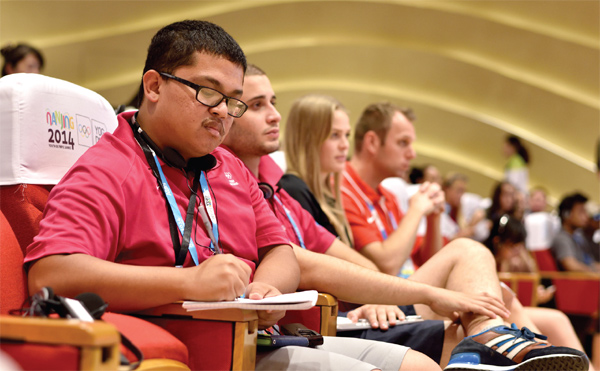 Jerick Sablan, a young writer from Guam and member of the Young Reporters Program, takes notes during a media conference at the Nanjing Youth Olympics. PROVIDED TO CHINA DAILY 
Jerick Sablan, a young reporter from Guam, had never been able to shift his focus from covering hard news to light and fun events until the Nanjing Youth Olympics.
The 23-year-old has worked for the Pacific Daily News, a newspaper in Guam, for three years, during which he discovered fascinating stories about war veterans and survivors from the World War II period on the Mariana Islands.
Still, he wanted some new experiences and covering sports as part of the International Olympic Committee's Young Reporters Program offered him that chance.
"It is my first time covering sports and to do it at the Youth Olympics is a dream come true," Sablan said at the young reporters' lounge on Saturday.
"Coming from a small island (in the western Pacific), I am so excited to see the sportsmanship from throughout the world."
Covering competitions has been more challenging than he expected. "(The experience) has given me a new understanding of sports terms and rules. A lot of the Olympic sports are not played in Guam, so I have needed to do a lot of research. I bought books to do my homework but even though I did that, when I am out there, it's hard to understand quickly," he said.
After graduating with a communications degree from the University of Guam in 2012, Sablan started to work for the paper covering crime and emergency services including murders and fatal car accidents.
His stories about locals' lives have been recognized back home as an effort to document and preserve the history of the country while also educating current and future generations of Guam about the struggles of their ancestors.
Compared to what he did back home, Sablan found life as a sports journalist is more enjoyable, despite the long hours.
"It's a long day but good to have a lot of work to do. However, the workload here is much lighter than back home, where I sometimes have to write seven stories a day. Here, just maybe two or three," Sablan said.
"In sports, you ask the athletes more about personal things and fun questions. Back home, they (interviewees) don't like to answer (my question). But here you don't get turned down and you get more about their lives and other fun stuff."
The Young Reporters Program encourages journalists to change sports each day to cover as many events as possible.
Sablan has covered six events including judo, basketball and swimming. Golf is his new favorite.
"I knew little about it before, I only knew Tiger Woods. I had to learn a lot about it beforehand but when I was out there to cover it, everything seemed different.
"Golf is really about using your mental skills. It requires a lot of planning so you can hit the ball the way you want to. I admire golf."