Future is bright for young Yan
Updated: 2014-02-17 07:25:06
( China Daily) Lei Lei in Sochi, Russia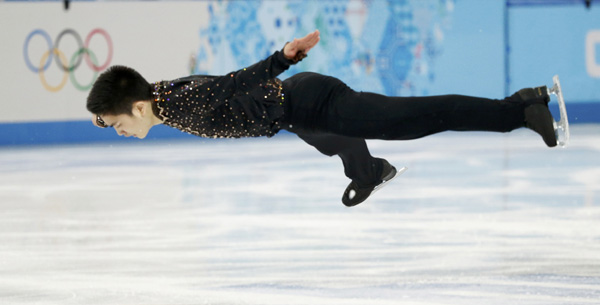 Yan Han competes during the figure skating short program at the Sochi Winter Olympics on Friday. [Lucy Nicholson/Reuters]
Chinese 'rough diamond' raising the bar in men's figure skating
Teenage figure skater Yan Han has vowed the "best is yet to come" after finishing a groundbreaking seventh for China at the Sochi Winter Olympics,
"This is my first Winter Olympics and I know I am not a mature skater and not that capable," Yan, 17, said.
"I could have done better and I'm sure I will be better in the future. Do believe in me. See how I will improve into a better skater. I will be back to the Olympics; the best is yet to come."
In the singles free skate on Friday, Yan downgraded a quadruple jump to a triple and made errors in his triple loop and triple Lutz jumps. Another mistake in a spin also cost him points. He earned 160.54 points to finish seventh among 24 skaters in free skating and finished with a total of 246.20 for the same overall position.
Japanese 19-year-old Yuzuru Hanyu became the first Asian skater to win a men's singles Olympic figure skating title with a total of 280.08 points, beating three-time world champion Patrick Chan of Canada (275.62) and Kazakhstan's Denis Ten (255.10).
Yan's result was the best achieved by a Chinese men's singles skater at the Winter Olympics. Guo Zhengxin finished eighth at the 1998 Nagano Games.
At the following two Olympics, Li Chengjiang placed ninth in 2002 and Zhang Min was 10th in 2006. Chinese male skaters failed to qualify for the Vancouver Olympics four years ago; the first time no Chinese competed in the event since the country first participated in the Winter Games in 1980.
"Returning to the Winter Olympics in men's singles is very important for China. For me, it was practicing for a better future," Yan told China Daily. "I will participate in the following Olympic Games. I didn't perform well this time. I will get better and better."
Yan started to figure skate in 2001 at the age of four and made quick progress.
He started competing in national events in 2005 and started racking up national titles at a young age.
In October 2009, Yan participated in the ISU Figure Skating Junior Grand Prix for the first time and won gold at the Turkey event.
The following season, he qualified for the Junior Grand Prix final in Beijing and finished second.
China Daily in Sochi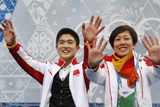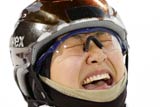 7
3
2
5
5
7
5
3
6
5
1
1
4
7
5
4
6
4