Ning already eyeing 2018
Updated: 2014-02-11 07:18:47
( China Daily) Lei Lei in Sochi, Russia
Reaching final round in Sochi gives big boost to China's moguls pioneer
Ning Qin is brimming with confidence after becoming the first Chinese to compete in freestyle skiing moguls at the Sochi Winter Olympics.
After reaching Saturday's final and finishing 18th overall, the 22-year-old said she has set her sights on winning a medal at the 2018 Games in Pyeongchang, South Korea.
"My coach believes in me and I also believe in myself. I hope I can win a medal at the Pyeongchang Games," Ning told China Daily on Sunday.
Ning was among the first group of Chinese athletes to take up freestyle moguls in 2008.
Born in 1992 in Xuzhou, Jiangsu province, she began performing acrobatics at the age of seven. She was selected to join the freestyle aerials ski team in northeast China's Jilin province at age nine but was forced to drop that event after fracturing a leg in 2004.
Another opportunity opened up for Ning when she joined the newly-formed moguls team.
"I'm a pioneer of the sport in China," said Ning, who secured her Sochi Olympic berth at the end of January.
"I didn't think too much about what kind of achievements I could make (in the sport) in the beginning, but as the Olympic ticket was approaching, I become more and more confident."
Compared to freestyle aerials, the moguls event is still in its infancy in China.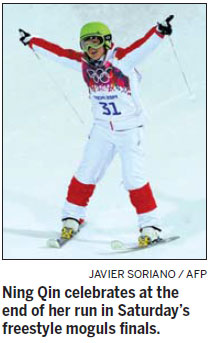 Ning said she has no regrets about switching from the familiar to something brand new.
"As an aerials skier I was the national champion. Someone said it was such a pity for me to give it up because I could have become an aerials World Cup champion one day," Ning said.
"But I have no regrets at all. I know China does not lack for potential aerials champions, but it needed a first one to try moguls, like me."
Reaching the final in Sochi was a dream come true.
"I used to imagine standing on the course in an Olympic final, and now I have realized it," Ning said.
"Now I like the sport evenmore because it has given me a lot.
"The competition has made me more mature and I like the feeling of conquering difficulties in training.
"After four more years, I will do better."
Ren Hongguo, vice-director of China's Winter Sports Administrative Center, said there are now more than 30 moguls skiers in China and about 10 are in the national program.
Ren believes Ning's result at Sochi will provide a major boost for the sport.
"Ning is the first Chinese to compete in the event and the first to reach the final, and I am very pleased with that," Ren said. "It shows that moguls is very suitable for Chinese athletes."
To help fast track the team, China invited former freestyle world champion Murray Cluff of Canada to coach of the squad in 2012.
Cluff, who won the freestyle world title in 1980, represented Canada in the sport for 12 years. He later coached Jennifer Heil, who won gold at the 2006 Turin Olympics and silver in Vancouver four years later.
Cluff spent six weeks in China with the team. Ning and her teammates also went to Canada to train with him.
"The biggest help that he gave me was a better understanding of the sport," Ning said. "He stressed the improvement of overall ability rather than just skiing or jumping, and that helped me a lot."
Ren said the level of local coaching is the biggest hurdle in developing moguls in China.
"The Canadian coach helped us a lot. He was important to us, undoubtedly," Ren said.
"There are only a few moguls coaches in China. I think when Ning's generation retires there will be more experienced coaches in the country.
"Therefore, her remarkable achievement should benefit the long-term development of the sport in China."
leilei@chinadaily.com.cm
China Daily in Sochi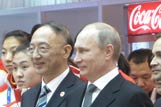 3
3
1
3
2
2
2
1
4
2
0
3
2
0
0
1
2
3