Harden says red-hot Rockets never satisfied
HOUSTON - After losing just one game in November the Houston Rockets are feeling pretty good about where they are.
But James Harden says the best part about how well they're playing is that they can be much better.
"We're never satisfied," he said. "We have a long way to go."
Harden had 29 points, 10 assists and eight rebounds as the Rockets rolled over the Indiana Pacers 118-97 on Wednesday night for their sixth straight victory.
Houston improved to 12-1 this month, with its only loss coming on Nov 14 against Toronto. The Rockets' 17-4 record overall is the best in the Western Conference.
Thaddeus Young cut the lead to 10 with a hook shot with about eight minutes left, but Houston put it away with a 16-4 run that made it 110-88 with about four minutes left.
"They hit some big shots in the second half," Pacers coach Nate McMillan said.
"I thought a lot of them we were right there, but sometimes you just have to give some teams credit for executing and making shots."
Trevor Ariza made a 3-pointer in that stretch and Ryan Anderson added two to finish with 19 points.
The Pacers missed numerous shots and committed an offensive foul to allow the Rockets to pad the lead.
"Even tonight we had some lapses," Anderson said. "But we're a relentless team and we play hard and we know if we stick to the scheme... we know we're going to win games. So we're the only thing that gets in our own way."
Young finished with 23 points for the Pacers, who have won seven of their past 10 games.
Houston led by 18 after three quarters, but Indiana scored the first seven points of the fourth to narrow the gap to 89-78.
After a timeout, Chris Paul hit a 3-pointer right before the shot clock expired to give the Rockets their first points of the quarter before he found Ryan Anderson for a rare dunk to make it 94-80 with about nine minutes left.
The Pacers tied it early in the third quarter before Houston used a 13-4 run to take a 67-58 lead with about seven minutes left in the quarter.
Anderson and Ariza made consecutive 3-pointers to power that run and Ariza added a second 3 later in that span.
Indiana got back on track after that, and used a 6-2 spurt, highlighted by a 3-pointer from Bojan Bogdanovic, to get to 69-64.
But Houston scored the next eight points, with the last seven from Harden, to push the advantage to 77-66 with about 2 1/2 minutes left in the third. Victor Oladipo ended an almost 2 1/2 minute scoring drought with a 3-pointer after that.
It was then that the Rockets got hot from long range, with Tucker and Harden each draining a pair of 3s each to allow Houston to outscore the Pacers 12-2 for the rest of the quarter, making it 89-71 entering the fourth.
The Rockets led 54-49 at halftime.
"We're figuring it out; we've just got to keep being great defensively," Paul said of the improvement of the team's spacing and timing.
"We know we're going to have off-shooting nights every now and then, but we know we can rely on our defense."
Associated Press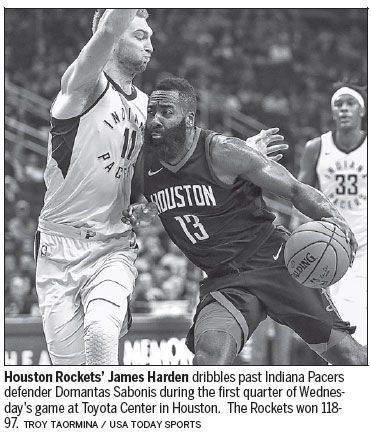 (China Daily 12/01/2017 page23)