Giving fans their money's worth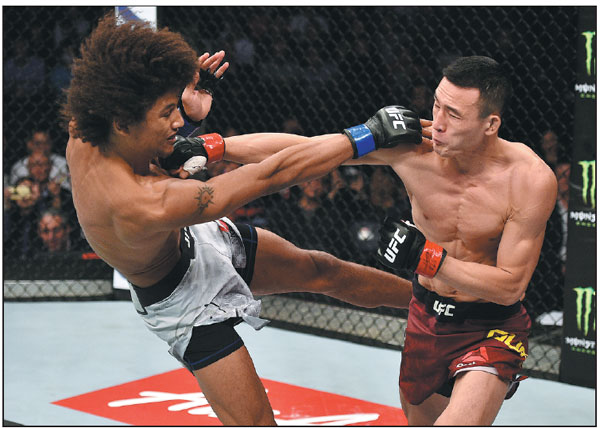 Beijing's Wang Guan - aka 'The Dongbei Tiger' - punches Alex Caceres of Miami, Florida, in their featherweight bout on Saturday's UFC Fight Night card at Mercedes-Benz Arena in Shanghai. Wang won a three-round split decision.Brandon Magnus / Zuffa Llc Via Getty Images
Homegrown fighters shine on UFC's first China mainland show
Buoyed by boisterous support from the home crowd, five out of eight Chinese fighters emerged victorious at the Ultimate Fighting Championship's China mainland debut on Saturday in Shanghai.
The sold-out cage fighting event at Mercedes-Benz Arena was headlined by the clash of former UFC middleweight champion Michael Bisping and Kelvin Gastelum, with the latter scoring a stunning upset by knocking out Bisping at 2:30 of the first round.
The first three Chinese mixed fighters to enter the octagon - Buren Wuliji, Hu Yaozong and Wu Yanan - lost to more seasoned opponents before 19-year-old Song Yadong started the winning streak for China by beating India's Bharat Kandare by submission.
Yan Xiaonan, the first Chinese female fighter signed by UFC, then decisioned American Kailin Curran, despite bleeding profusely from the mouth in the final round.
Song Kenan ignited the crowd when he floored Bobby Nash to win by technical knockout after just 15 seconds.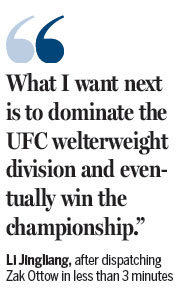 Wang Guan, represented by WME | IMG China, went up against veteran Alex Caceres, and though the American was floored with heavy punches several times, the Chinese fighter couldn't deliver a knockout blow en route to winning a three-round split decision.
The loudest cheers of the night were reserved for China's most prominent MMA welterweight star Li Jingliang, who quickly dispatched Zak Ottow in less than three minutes before vaulting over the cage to hug his wife and daughter.
"To be able to fight in my own country feels amazing. Hearing so many fans cheering for you just makes you feel so excited during the fight," said the 29-year-old.
"What I want next is to dominate the UFC welterweight division and eventually win the championship."
Co-hosted by Shanghai Sports Federation and WME | IMG China, the success of Saturday's card underlined the growing popularity of MMA across the country.
According to Kevin Chang, vice-president of UFC Asia Pacific, the brand currently has a fan base of around 40 million in China and is the third-most followed sporting account on WeChat, only behind the NBA and English soccer's Manchester United.
Chang said the organization's partnerships with about 20 Chinese media companies, including PPTV, Shanghai Media Group and BesTV, have been key to growing the sport.
"Saturday's event was almost sold out so I think that's an indication of just how far we have come," said Chang.
"We have also reached several milestones, such as surpassing 100 million video views on internet streaming channels. We've definitely risen in prominence in this market."
Gym owner and former professional MMA fighter Ramsey Dewey can also attest to the sport's rise.
"When I first arrived in China, MMA was all but unknown here. I opened the first MMA gym in Shanghai in 2009, which got off to a very rocky start. Today, there are new MMA gyms opening up regularly in Shanghai, and more and more MMA events around China each year," said the 39-year-old.
Tapping the full potential of the Chinese market is not so straightforward for the MMA, however, with one analyst citing the failure of its biggest star, Conor McGregor, to capture the public's imagination in losing a boxing match to Floyd Mayweather in August.
"For a start, the UFC will not simply be able to come into China and make a lot of money very quickly," said Mark Dreyer, a Beijing-based sports analyst.
"Ticket sales and broadcast revenues are way, way down on what the UFC would be making in more established territories. For example, the McGregor versus Mayweather fight was streamed live for free on PPTV in China, because there wasn't the demand to get enough of an audience to pay a meaningful amount of money."
Dewey echoed this point, saying that only a third of his students are Chinese, and that interest levels are still far higher among foreigners.
He also believes domestic promoters tend to have just one trick up their sleeves to attract audiences - playing the "China versus the foreigners" card, as he put it.
"Human culture is based in storytelling," said Dewey.
"Think of every religion in the world - causes that martyrs have died for - that kind of conviction doesn't start with delineating the details of dogma, it begins by telling a compelling story that teaches a lesson.
"A fighter with a story to tell, or a match with a story behind it, is the most compelling kind."
Dreyer also noted that poor levels of English and a lack of showmanship could hamper Chinese fighters' hopes of grabbing the world's attention.
But while Chinese fighters generally don't portray the sort of arrogant flamboyance for which McGregor is famed for, few would say they lack aggression.
Dewey knows this all too well.
"I fought Wang Guan in 2011, and with a single punch he put a depressed skull fracture in my frontal bone and a massive hairline fracture all the way up my cranium," he said.
"You don't come back from such an injury to fight another day. It's a crippling, career-ending injury that's only happened three times in professional MMA.
"That's why I coach full-time now."
alywin@chinadaily.com.cn